Misbah and Younis: A Pakistan Cricket Fairytale
"It is very disappointing, you find yourself in the eleven and suddenly you are not even in a preliminary squad of 35, it prompts you to burn all your cricket equipment in anger," said Misbhah-Ul-Haq on being dropped for Pakistan's tour of England where they faced Australia and later hosts England. That was the same tour where Shahid Afridi declared his retirement from Test matches and incoming captain Salman Butt and fellow pacers, Mohammad Asif and Mohammed Amir disgraced themselves in the spot fixing scandal. 7 years down the line, Misbah who wasn't picked for that tour and was generally considered "too old" in the annals of Pakistan Cricket retires as the most successful Pakistan skipper. After the fiasco that was the 2010 England tour, the then PCB chairman, Shaharyar Khan, in a secret meeting offered Misbah the captaincy and being someone who understood Pakistan Cricket, Misbah took it.
With Misbah at the helm, offering steady and stable leadership, it allowed Younis the opportunity and the freedom to develop into the role of the side's premier batsman. Misbah had an uncomplicated approach to batting: Consolidation first, blitzkreig later, something that he brought to his captaincy as well. In terms of approach he couldn't have been much different from Younis, both being at the other end of the spectrum in that respect but both getting results nonetheless. If it had not been for Younis, Misbah would not have become captain. And if it had not been for Misbah, Younis would not have become Pakistan's greatest batsman. It was to Misbah's credit that at the time of his departure he had groomed the next generation of Pakistan Cricket with batsmen like Asad Shafiq, Azhar Ali and Sarfaraz Khan ready to take up the mantle, moulded in images of his and Younis'. He may have been criticised for his caution-first approach but often that was the need of the hour, that was what Pakistan needed and he was selfless enough to put qualms about his personal image aside to complete the job at hand.
Then there was Younis, who will go down as Pakistan's best batsman both statisticlly as well as in terms of temperament, technique and the sheer ability to step up not just his own game but that of those around him as well. The fact that he was forced to quit captaincy an year after he won them a World T20 in 2009 speaks volumes of how badly Pakistan cricket treated him. His tally of 115 tests would have been much higher had he played cricket for any other Asian country, one where there weren't so many inconsistencies in selection that saw a former world champion banned for 10 months for "alleged" dressing room politics by senior players. But Younis is what Younis does. Every time he stepped on the field he made sure that he put these issues aside and focussed on the game and only the game. His work ethic is an inspiration for young cricketers in the Pakistan dressing room and so are his training levels so much so that in a Pakistan team notorious of dropping even the simplest of catches Younis accounts for more than 100 catches in Test Cricket.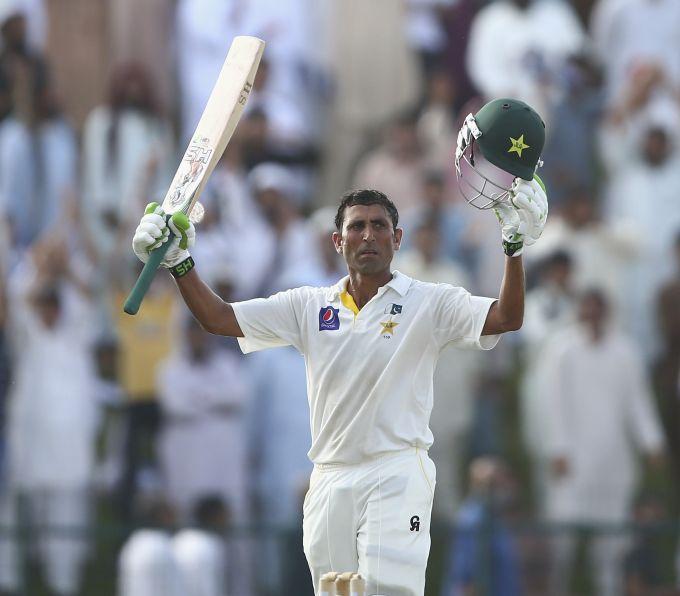 It was probably for his own good that he was not captain for a very long time. It allowed him to focus on his batting a lot more and become the 1st Pakistani cricketer to reach 10000 runs. The fact that he was willing to stay if the team needed him to inspite of announcing his retirement speaks volumes of his selflessness and champion batsmanship. Such high were the standards that he set for himself that the last Australian tour that he went on was considered a lean one for him inspite of averaging 59. Here was a man who was an example of the rewards one can reap through consistent hard work at every step of his career be it first class cricket or international.
Such was their dominance, such was the legacy of these two players that in the long history of Test cricket, only two pairs scored more runs in partnership at a higher average. Jack Hobbs and Herbert Sutcliffe were one, Justin Langer and Ricky Ponting the other. Then it is Misbah and Younis, 3,213 altogether, at 68.36.
Their willingness to lead from the front and their humility that prevented them from ever becoming the boorish seniors that Pakistan cricket faced in the past allowed them to steer Pakistan cricket out of a difficult time that was the aftermath of the 2010 tour and put them on the pedestal of being world beaters and very briefly world champions. It is their absence that Pakistan will take a while to fill. Whether they build on the foundation laid by these 2 legends or spiral into old self destructive habits depends on how the Azhar Alis and the Sarfaraz Khans respond to the challenge. The upcoming days will determine the next chapter in Pakistan's cricketing history.