Chelsea
On the back of the title win, Chelsea fans had reasons to be optimistic about. A mismanaged transfer window along with an injury crisis led to a poor start to the season. At best this has been an inconsistent season for the blues who have various ups and downs through the season.
Season so far 
The holders of the Premier League have had an on and off start to the season. After having lost 3 of their first 8 games, the Champions have fought back and only lost one game since. But its vividly not been good enough as Antonio Conte's men find themselves in third place, 16 points behind leaders Manchester City.
Their form in other competitions has been satisfying so far. While they could not top their group, they did make it to the round of 16 of the champions league where a mouth-watering tie vs Barcelona awaits them. The West Londoners are still alive in both cup competitions with Arsenal awaiting them in the Carabao Cup Semi Final.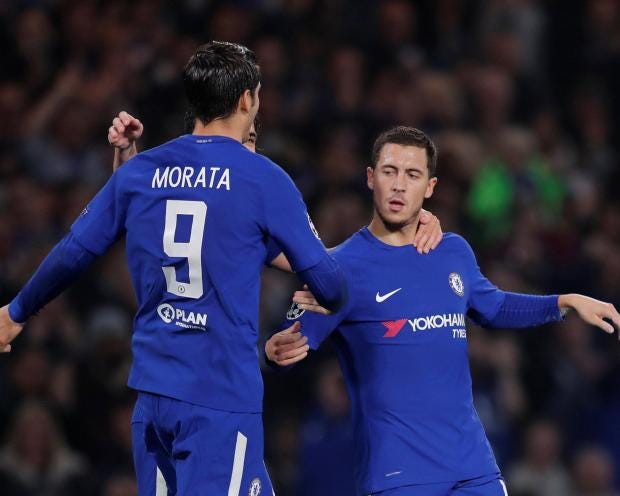 Best Player 
Eden Hazard is probably one of the best players in the World. His talent and ability to turn matches on his head all by himself are undoubtedly and so he has shown this season. Despite suffering a serious injury in the summer and having to had surgery, the Belgian has been at his mercurial best this season. On numerous occasions this season, Chelsea have relied on his brilliance to win games. His combination play with new signing Alvaro Morata has been a thing of real beauty. Despite missing the start of the season due to injury, he has scored 9 goals in all competitions this season so far.
Season rating 
3.5/5
While the Premier League title defense hasn't gone to plan, the fact that they are in comfortable position for a top 4 finish and a good run in other competitions has still made it a decent season for them so far. Like Manchester United, Chelsea's 2017/18 Premier League season must be judged relatively and accounting for the exceptional season Manchester City have had.