Ajinkya Rahane
Profile
Ajinkya heads into IPL 2019 as the skipper of Rajasthan Royals. He spent three of his years with the Mumbai Indians before moving to the Rajasthan Royals. Following their ban, he moved to Rising Pune Supergiant and returned to the Royals when the ban was lifted.
Ajinkya Rahane is 30-years old as he enters the IPL 2019 season. He also has adequate opportunities to excel in IPL 2019 as the one of the team's top opening batsmen this year.
Since 2011, during which he made his debut for India in ODIs, T20Is and Test Matches, his career has been on the rise. Rahane even boasts of few note-worthy performances at the international and domestic level.
ADVERTISEMENT
Article continues below this ad
Rahane's 2019 IPL contract and salary stands at an estimated Rs 40 million. It was a steep drop from and astounding Rs 95 million in 2017. However, that was when he signed with Pune, and given that he is not getting any younger, his backers may have felt that he is losing his touch.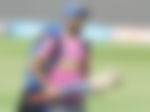 IPL Career
Ajinkya Rahane made his Indian Premier League debut in during the series' inception in 2008 for the Mumbai Indians. In 2018, Rahane was brought back to the Royals from the now defunct RPS for Rs 4 crore.
Since then, he has remained with the Rajasthan side and was handed the Rajasthani mantle in 2018. Initially, Steve Smith was the skipper, but in the wake of the ball-tampering scandal, Smith stepped down. Rahane led the side to fourth in the IPL table, but the team lost their playoffs match.
He is primarily not known for being a T20 player, but has proven himself. With Mumbai, he got a limited number of chances, but in his first stint with Rajasthan, he truly shone.
In terms of personal records, Rahane is the leading run-scorer for the team with 2705 runs.
ADVERTISEMENT
Article continues below this ad
Expectations for IPL 2019
Rahane is expected to lead by example as Rajasthan are set to campaign for their second title. The Rajasthan Royals have always been considered underdogs and it showed when they clinch the 2008 title.
ADVERTISEMENT
Article continues below this ad
Rahane also has some impressive stats to his name. He has accumulated one century and 26 half centuries to his name. The 30-year old also has 65 sixes, the most (13) coming from the 2015 season.