Jofra Archer
Jofra Archer Biography
Jofra Archer initially hails from Barbados but was living in England since he was 18. According to the earlier rules, he was ineligible to play for England until at least 2022. In other words, he needed to live in England for at least 7 years before applying for the England team.
But then, the rules were later changed to being a resident for 3 years. Archer has never played for a national team apart from the West Indies Under-19s in 2014.
He made his cricketing debut in 2016 for Sussex and has milled around several domestic teams since.
ADVERTISEMENT
Article continues below this ad
IPL Career
Jofra Archer's IPL career kicked off in 2018. He had been purchased by the Rajasthan Royals during that year's IPL auction. Later, Jofra Archer's career in the cash-rich league took off against the Mumbai Indians. That day, Jofra Archer's record was three wickets on debut and player of the match as a bonus.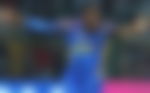 ADVERTISEMENT
Article continues below this ad
Jofra Archer's stats are quite impressive and he is quick fast, at speeds of 150 kph. While Jofra Archer's batting record is nothing to write home about, Jofra Archer's bowling speed more than makes up for it.
IPL 2019 Expectations
Jofra Archer's IPL 2019 season will be one to closely monitor. This is because a good performance this IPL brings him a step closer to the England World Cup squad.
ADVERTISEMENT
Article continues below this ad
Given that Jofra Archer is now eligible to play for the national team, it is crunch time. His 150 kph whizzers will surely come in handy for the Rajasthan Royals in IPL 2019. In Archer's maiden IPL season, h came out with a grand total of 15 wickets. Considering that he was utilised in slog overs, his economy was extremely good.