Kieron Pollard
Kieron Pollard Biography
Kieron Pollard, the big man, he is a destructive batsman when he gets going. In addition to that he can bowl medium pace coupled with slight pace variation.
He burst onto the ODI scene in 2007 at the World Cup against South Africa. But two years later, Kieron Pollard showed what he was truly made of when he decimated New South Wales with a 18-ball 54.
Soon, South Australia cam knocking to rope him in for the Big Bash. The Mumbai Indians followed not long after for an undisclosed amount. Kieron Pollard was so good that the bidding process breached the highest limit of $750,000 and went higher.
ADVERTISEMENT
Article continues below this ad
The WICB offered him a central contract to play T20s all over the world as a freelancer, but he turned it down. He is an aggressive batsman and can clear the boundary without breaking a sweat. But, inspite of all his powerhouse hitting, Kieron Pollard has his kryptonite - spinners. He often falls prey to them while working out the ball's trajectory.
As a bowler, he tends to roll his fingers over the ball and bowl leg cutters consistently. As a fielder, Kieron Pollard snatches insane catches with ballerina-esque grace. His height and long reach is often exploited handsomely.
Internationally, he has occasional flashes of brilliance like his brutal second ODI ton against Australia, the first coming against India. However his second biggest nemesis was consistency. Kieron Pollard was earmarked for ODI cricket and has been passed over several times for Tests.
His third biggest enemy was injury and fitness. Both reduced his workload as a bowler and forced him to miss crucial games. Kieron Pollard failed to make the cut for the 2015 World Cup. Interestingly, Dwayne Bravo also joined him on the sidelines.
Naturally, the decision was widely panned by critics and experts.  Kieron Pollard is often shuttled  in and out of the national team but turns up in T20 league cricket.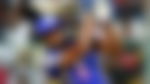 IPL Career
ADVERTISEMENT
Article continues below this ad
Pollard announced himself to the IPL masses in 2010 with a few strong knocks. The 2011 and 2012 editions of the IPL were fairly mediocre by his standards unfortunately. However, in 2013, a new Kieron Pollard emerged, smashing 420 runs and picking up 10 wickets from 18 matches. That year, the Mumbai Indians romped to the title and to make things sweeter, he was named Man of the Final.
Kieron Pollard has steadily worked his way into the Mumbai Indians' core team. His ability to send balls into orbit, prompted Mumbai to retain him every season.
IPL 2019 Expectations
ADVERTISEMENT
Article continues below this ad
In IPL 2019 as well, he will be ready and eager to be unleashed as the power-hitter that he is.