2016 Baku
The inaugural race in Azerbaijan presented a great opportunity for Force India. The car had genuine pace around the 6 Km long circuit. The FI duo battled amongst themselves being only second to Mercedes. In qualifying, Perez lapped the circuit good enough for P2 while Hulkenberg spun in Q2 and got himself eliminated. What's worse was that he was on a lap much faster than his team-mate.
In the race, Perez started 7th due to a gearbox penalty and Hulkenberg in P11. While Perez climbed to P3, Hulkenberg could only finish P9.
2016 Spa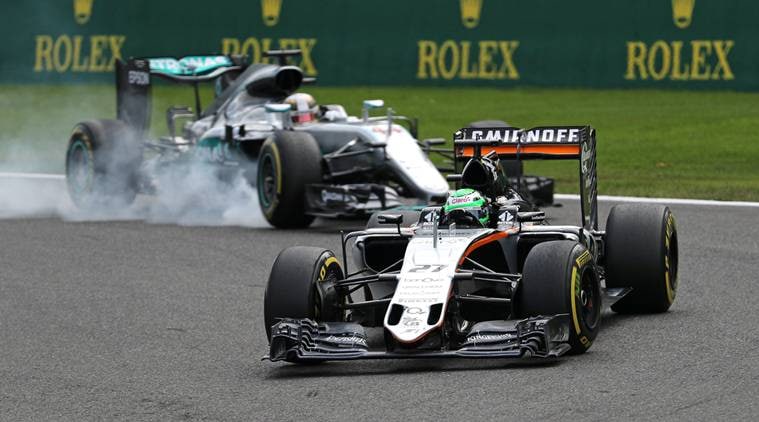 Another race of what could have been. Another race where the strategists let him down. Starting P7 it was expected to be another race of being the best behind the rest. But crucially on the first turn, the Ferrari duo and Verstappen crashed causing a bottleneck. A fast-starting Hulkenberg found himself in P2!
Once safety car peeled in, he maintained the gap to Ricciardo in 3rd. But K-Mag punted his Renault into the barriers at Eau Rouge. The Pit wall called the German in, to pit behind the safety car. But the extent of damage to the barriers meant that a red flag was almost a certainty in order to repair the barriers. The pit wall failed to anticipate it and Nico was called in.
He emerged behind Ricciardo into P3 and soon the race was red flagged. When it restarted, the order stayed as it is between Ricciardo and Hulkenberg because of the similar pace of the two.
In all this drama, Hamilton had moved a lot closer to the front and the Force India was powerless against the works Mercedes. Hamilton was unable to usurp Ricciardo though but it was another strategy blunder committed by his side of the Garage. He could have at the very least finished P3 had he not lost track position to the Red Bull.