Top 10 emotional defeats of Indian Cricket Team
6. Sydney Test 2008
The Sydney Test between India and Australia was clouded by what should have never happened in the first place. Even though the Aussies won the test match, the Australian media went on to criticize Ricky Ponting for his behavior on the field with the umpires.
It all started with the second innings of the Indian innings and India needed 332 runs to win the infamous contest.
1. Rahul Dravid was given out when caught off Symond's delivery by Umpire Steve Bucknor when there was never really an edge. Steve just raised his finger without any doubt in his mind. Dravid was playing to draw the match and his wicket changed the course of the game in the favor of the hosts.

2. Then came Ganguly's wicket. Clark went on to celebrate the catch which he himself knew was not neat. As if this was not enough for umpire Benson to dismiss Ganguly, Ricky Ponting pointed out his finger to the umpire to which Benson happily sent Ganguly back to the pavilion.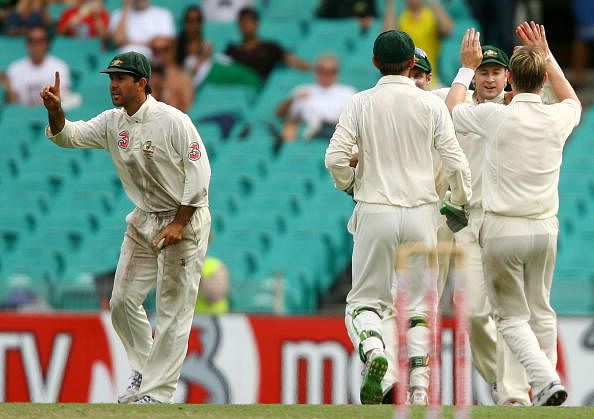 3. Steve Bucknor refused to go to third umpire when there was a stump appeal by Dhoni to get Symonds out. It looked like the umpires wanted the Aussies to win the game.
Then there was the very infamous "Monkeygate" which roused racial slur against Harbhajan and Andrew Symonds.
Harbhajan was banned for three tests and Steve Bucknor never umpired in an International match again.
The Sydney test match is considered as the most controversial match overshadowed by complaints over bad sportsmanship and bad umpiring, racism, gamesmanship and misconduct.
The match probably crossed the line and brought shame to the game. However, India went on to win the next test match at Perth but lost the series 1-2.
Raghav Jain
Raghav Jain is a cricket content writer at Essentially Sports. He is pursuing engineering from Netaji Subhas Institute Of Technology, Delhi. His interests are reading novels, cricket, quizzing.