Top 10 emotional defeats of Indian Cricket Team
3. 1996 World Cup Semi-final
Defeat too hard to take, for Eden Garden and Vinod Kambli.
After a tense, gripping win over the arch rivals Pakistan, India was emotionally drained. Pakistan's stand-in captain, Aamer Sohail wished India good luck "in the final at Lahore" which called for a premature celebration of the World Cup triumph. India were the clear favorites but they had already lost to Sri Lanka in the group stage. India had never lost to the same team in twice in a World cup tournament. It had been 13 years since the World cup came home.
Hosts of the first semi-finals, Eden Gardens saw India crashing out of the world cup, Kambli in tears and spectators throwing bottles, plastic bags or whatever they could get their hands on.
After winning the toss, India was asked to chase 252 to get themselves through to the finals.
Sachin Tendulkar's wicket signaled the beginning of the downfall of India. India lost 7 wickets for 22 runs after they were cruising at 98-1 in 20 overs. The angered Eden crowd set fire to the seating which ultimately concluded the Lankans as the winners by default by match referee Clive Lloyd.
Ironically, Vinod Kambli who was batting at 10 from 49 balls later said he could have saved the match when India needed 9 runs per over with two wickets in hand.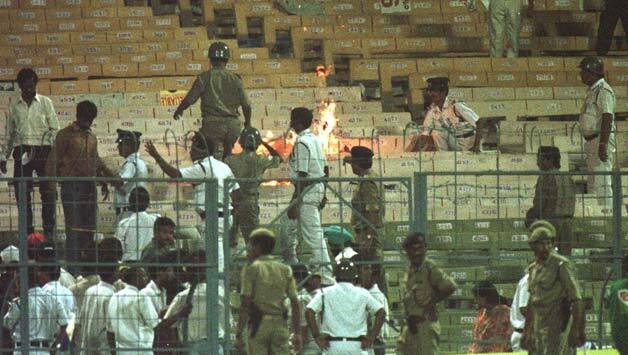 One spectator's placard read: "Congratulations Sri Lanka, we are sorry" and Kambli's tears symbolized an embarrassing moment for the Indian fans.
Raghav Jain
Raghav Jain is a cricket content writer at Essentially Sports. He is pursuing engineering from Netaji Subhas Institute Of Technology, Delhi. His interests are reading novels, cricket, quizzing.