"He's Actually In My Top One Hundred"- The Undertaker Gets Trolled By His Daughter
Published 06/23/2020, 1:15 AM CDT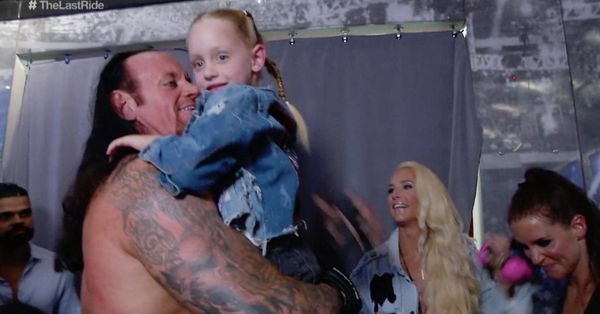 ---
---
The Undertaker might be an awe inspiring wrestler for his peers as well as his fans. However, at his home, he's just a loving husband and a caring father.
ADVERTISEMENT
Article continues below this ad
Mark Calaway is husband to former professional wrestler Michelle McCool and father to eight year old Kaia. You'd expect that the little kid would be overwhelmed by how big of a star her father is, right? Well, that's definitely not the case.
Little Kaia actually views her father as a normal man and loves to make fun of him. Now, poking fun at The Undertaker would make your death warrant if you're his opponent. However, The Dead Man loves the little jokes that his daughter makes.
ADVERTISEMENT
Article continues below this ad
He recently sat down with Mario Lopez for an exclusive interview. Along with him were his wife and daughter. Mario also brought his kids along.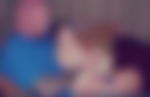 Kaia trolled her father continuously during the interview. Mario's daughter asked her about her favourite professional wrestler apart from her mom and dad. Her answer was absolutely hilarious.
"My dad is actually in the top one hundred".
Another question by Mario's son was about the feeling she gets when her father is in the event.
"It's kind of scary because I think he can't win as he can't beat me."
ADVERTISEMENT
Article continues below this ad
Throughout the interview, Calaway was extremely amused. It just went on to show how happy he was in post-retirement life. He's certainly enjoying the fruits of his three decades of hard labour.
Who all are there in the family of The Undertaker?
The Undertaker has four kids in total. This includes three daughters and one son.
ADVERTISEMENT
Article continues below this ad
His son was born with his first wife in 1993. He had two daughters with his second wife. Finally, he had another daughter with his third wife .
He currently lives with Michelle and his fourth kid Kaia. Needless to say, he has a beautiful family. We can wish nothing but good luck to The Undertaker for a beautiful post retirement life with his family.