The Numbers Game #DD vs. MI IPL 2016
Rahul Dravid vs. Sachin Tendulkar – Two teams mentored by two of the world's greatest cricketers
 Delhi vs. Mumbai – No other two cities match their sporting history
 AAP vs. BJP – That's enough!
Today VIVO IPL 2016 promised a hot affair between the Delhi Daredevils and Mumbai Indians at the former's home ground, Feroz Shah Kotla. Delhi got to a just above par score aided by Samson's half century and former Delhi captain, Duminy's 31 balls 49. DD managed 164-4 in 20 overs. In defense, MI contended with 154 in their 20 overs. However, MI's Captain Rohit Sharma
scored 65 runs off 48 balls until he collided with Pandya and got run out.
Match Stat: DD: 164-4 beat MI: 154-7 by 10 runs.
Some stats of the match:
1. Rohit Sharma has scored 624 runs against Delhi Daredevils in IPL – the most by any batsman against them.
2. 16- Head-to-head matches with both teams winning 8 each. At Kotla though, the hosts hold a 4-2  advantage.
3. 10- Most sixes conceded by M McClenaghan in IPL 2016
4. 2012- The last time DD won 3 matches in a row in IPL, 53 matches ago.
5. Daredevils's run rate of 7.61 in the last five overs of the innings is the worst among all teams in IPL 2016.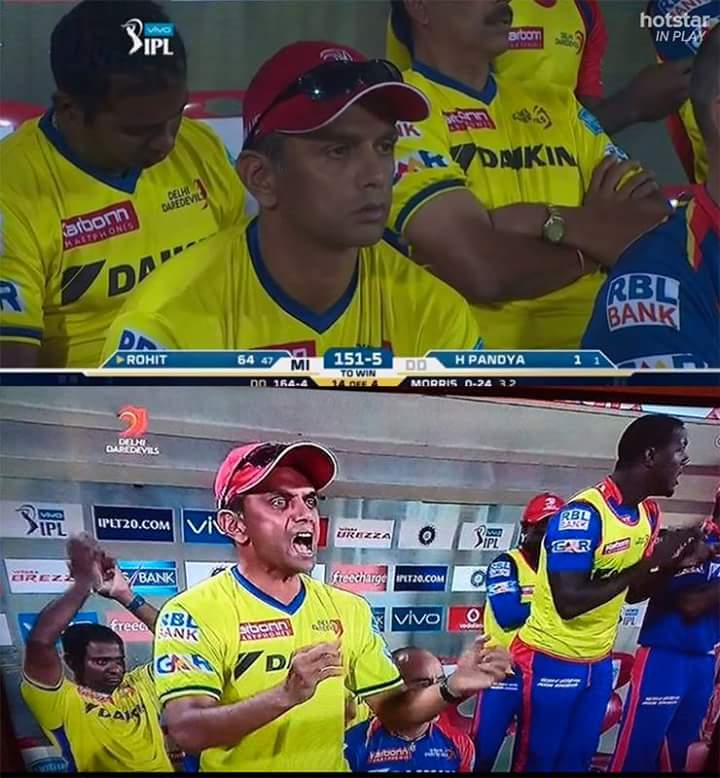 That's "special" Rahul Dravid for you!
6. 26.42 – Difference in the average of MI batsmen in IPL while batting first and second. They average 18.45 while batting first and 44.87 while chasing.
7.  Highest run-rate of MI in the match after 13 overs was six runs per over.

DD pulled back strongly with Tahir and Mishra.
8. Rohit Sharma in IPL:
Runouts involved: 28
Self out: 8
Partner out: 20
9. 500- No. of fours hit by Rohit Sharma
Hardik Pandya collision woes:
Earlier in the first innings, Pandya came off worse when his jaw knocked against the big shoulders of Jos Butler while trying to save a boundary. Unfortunately, the umpire signaled four runs as one of the fielders was in contact with the boundary line.
And then, Pandya collides with his skipper Rohit Sharma in the middle of the pitch while running. That collision cost Rohit his wicket and MI, the match.
Raghav Jain
Raghav Jain is a cricket content writer at Essentially Sports. He is pursuing engineering from Netaji Subhas Institute Of Technology, Delhi. His interests are reading novels, cricket, quizzing.