10 Best Radio Messages from the 2015 Formula 1 Season
Published 12/09/2015, 2:44 PM EST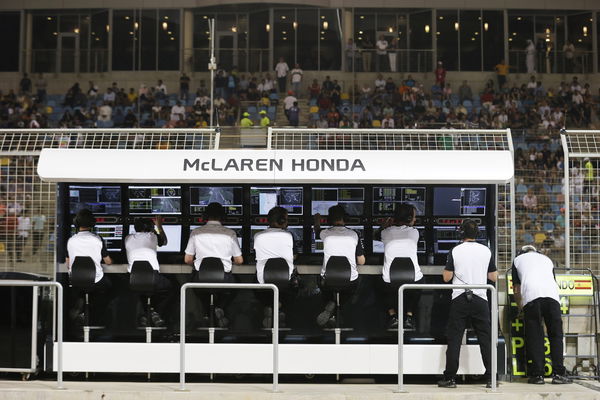 We saw some very interesting radio messages from drivers in the 2015 Formula 1 season. We take a look at the 10 best radio messages from the 2015 season, covering emotions spanning from Alonso's barely contained frustration to Hamilton's elation.
ADVERTISEMENT
Article continues below this ad
"What the **** did he do!?"
Out of the race after having had a shunt with Kimi Raikkonen, Bottas showed his anger with Kimi's move. Running in 4th, Raikkenon tried a last ditch move to grab 3rd off  Bottas on the last lap but it ended in the two Finn's colliding and ending Bottas' race.
ADVERTISEMENT
Article continues below this ad
"Okay Fernando, we are racing Massa behind to the end." (McLaren)
"I love your sense of humour!"
Alonso's sarcasm was justified at the end, with Massa passing him the next lap and finishing 4th, six places ahead of Alonso.
"I think I forgot something this morning…" (Vettel)
"Can you be more specific?" (Ferrari)
"[Breaks into singing Tanti Auguri]. Happy birthday Ricci!"
During Free Practice 1, Vettel wished one of his engineers while on track showing just how drivers appreciate all the work done by their engineers.
https://www.youtube.com/watch?v=2sjhHC-RDVw
"Max, we need to swap positions." (Toro Rosso)
"No!"
"Max, just do it." (Torro Rosso)
Max Verstappen refused to concede eighth place to teammate Carlos Sainz to allow the Spaniard to attack Sergio Perez in front on fresher tyres. After the race, Torro Rosso said that Verstappen had taken the right decision. This shows just how competitive drivers are while on track.
https://www.youtube.com/watch?v=TwT6Mf6Z-j8
"Balance is okay, but it is like driving on ice. They pass me on the straights like in GP2. It is embarrassing, very embarrassing… I do my best…"
"GP2 engine, GP2. Aaargh!"
"What drivers we are racing with. Unbelievable."
At Honda's home GP, Alonso made sure that his thoughts about the Honda engine were clear to the Honda President who had attended the event.
"I should have known, really, he's mental!"
After clipping the back of Pastor Maldonado's Lotus as the Venezuelan slowly made his way back on track, Button delivered the one-liner clearly stating what he thought of the Lotus driver.
https://www.youtube.com/watch?v=dlKvo1wB2qs
"My rear end is all over the place." (Lewis Hamilton)
"Imodium is good for that." (Martin Brundle)
Martin Brundle delivered the line of the season from the commentary booth after Lewis Hamilton complained about the rear balance of his car. (Imodium is used to treat diarrhea)
"He's a bit of a nutter isn't he?" (laughs)
Toro Rosso's Carlos Sainz passed Jenson Button in a charge in the latter stages of the race, wrestling his way into sixth much to Button's amusement.
ADVERTISEMENT
Article continues below this ad
"And rub your tummy and pat your head?"
This was Button's sarcastic response after a long string of driving requests from McLaren who had both his teammate and Pastor Maldonado to worry about.
"Three times world champion Lewis, you've only gone and done it!" (Mercedes)
(Crying from cockpit)                                                                                                                                                                       "Yer I'm feeling it pal, I'm feeling it. (Mercedes)
"This is the greatest moment of my life. Thank you guys so much, I'm so grateful. To my family I love you all. Thank you." (Hamilton)
ADVERTISEMENT
Article continues below this ad
Hamilton struggled for words after he won the US Grand Prix and the reality of winning the 3rd world title sinked in.