10 Most Dramatic Comebacks In Test Cricket
Published 05/08/2015, 10:31 AM EDT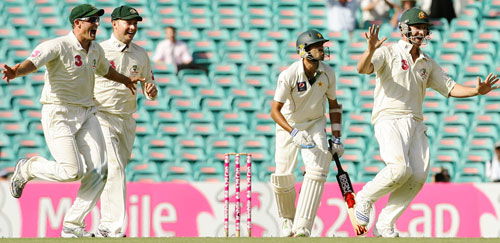 ---
---
Test cricket has seen a lot of thrilling matches in the past. But some of them have seen teams come from behind and register unexpected victories. Let's take a look at some such instances
ADVERTISEMENT
Article continues below this ad
A classic match between arch rivals England and Australia during England's tour of Australia  1886-1887. Australian bowlers Turner and Ferris were spitting fire as they reduced England to a meagre 45 runs. The Englishmen did the unexpected, coming back hard at the Aussies and winning the Test match by 71 runs. Barnes' superb bowling and Barlow's batting being the main elements of  success.
ADVERTISEMENT
Article continues below this ad
England's tour of Australia 1891-1892 produced one of the finest victories in the history of Australian cricket. Thanks  to Lohmann, who is regarded as one of the greatest bowlers of all time, England bowled out Australia  for 144 in the 1 innings. England seemed to be at the top of their game and by the end of second day, the match seemed as good as over.
But the third day of match brought about an extraordinary change. Lyons, Bannerman and Giffen batted brilliantly, helping Australia post 391 runs. Despite this, England still had a chance, but Giffen's 6 for 72 was the final nail in the coffin as Australians won by 72 runs.
During England's tour of South Africa in 1927/28, a match played in Cape town saw bowling prowess of South Africans as they reduced England to 133. The English bowlers put on a stellar show as they stopped the South Africans at 250 runs. Trailing by 117 runs, England openers Sutcliffe and Holmes came out to bat and a splendid 140-run partnership not only wiped the deficit but also paved the way for a magnificent recovery. After a keen struggle by South Africa, England registered an 87-run victory.
On December 24, 1959, India won a match against the mighty Australians at Kanpur. The victory was hailed as "The miracle at Kanpur" by people all over the world. It wasn't an easy match and after the humiliating loss at the hands of Australians in the Test before, India was bowled out for 152 in 1 innings.
The Australians looked in control with 128 for 1 till lunch. By the close of play, India had already made a comeback, reducing the Australians to 219, with Patel picking up 9 wickets for 69 runs- a record which remained the best figures by an Indian- till Anil Kumble took 10 wickets against Paksitan. India finally won the match by 119 runs with Patel ending with 14 wickets.
New Zealand toured India in 1969-1970 and the series saw a nail biting match between between from both the teams. The first Test played in Bombay saw the visitors reducing the Indian team to 156 in the 1 innings. With New Zealanders starting off well, India was looking in trouble, but clever bowling from the Indian spinners kept the lead down to 73. The Indian batsman showed more strength in the 2 innings and kept the fast bowlers at bay on a spinning wicket. The Indian spinning duo of Bedi and Prasanna was too good for the visitors as India won by 60 runs in the end.
England tour of Australia 1978/1979 saw one of the most astonishing recoveries in the history of Test Cricket. The Australians seemed to have taken a giant stride towards victory after dismissing England for a paltry 152. Australia's control began to decline against the ability and determination of Botham and Hendrick, who restricted the Australian lead to 142 runs. Brearley and Randall displayed brilliance and class, helping England put a score of 346 runs. Australians didn't realise what hit them and ended up losing the match by 93 runs.
West Indies toured Paksitan in 1986/1987 and the first Test at Lahore stood witness to an amazing comeback by the Pakistani team. The first day was dominated by West Indies pace battery which had the likes of Marshall and Walsh and they bowled out Pakistani team for a paltry 159. Wasim Akram's brilliant bowling kept the Pakistani team in the game as they bowled out West Indies for 248. In the 2nd innings, the Pakistani batsman upped their sleeves and gave a fightback. Devastating leg spin and a tough-to-gauge googly by Abdul Qadir, backed by Imran Khan's impeccable line-and-length broke the West Indian batting as they were all out for 53 runs. It was their lowest total and only their 4 loss in 57 test. 
An epic match between India and Pakistan during Pakistan's tour of India in 1986-1987. This match was also the last game that featured the legendary Indian batsman Sunil Gavaskar.
Batting first after winning the toss, Pakistan was reduced to 116. The Indian team were looking in command at 119/4, but soon afterwards, they faltered and could manage a lead of only 29 runs. Pakistan batted well in the 2 innings on a pitch that was deteriorating by the hour. But on the fourth day, on a pitch which allowed spinners to bowl bouncers, Sunil Gavaskar gave a masterly exhibition of technique and judgement, scoring 96 runs in vain as Pakistan still managed to win by 16 runs.
ADVERTISEMENT
Article continues below this ad
The carelessness of Arvinda De Silva cost Sri Lanka what would have been their most famous victory since entering the Test arena in 1982. The Test match was played in Colombo in 1992 on a docile pitch where the Sri Lankan bowlers reduced Australia to 256 and put on a score of 547 in reply with three of their batsman scoring centuries.
Australia showed guts and put on 471 runs in the 2nd innings, setting Sri Lanka  a target of 181 runs. With 2 for 127 on board, Sri Lanka was looking comfortable before Arvinda De Silva threw his wicket and we witnessed one of the most horrible batting collapses as Sri Lanka lost 8 wickets for mere 37 runs and Australia won the match by 16 runs.
Pakistan's tour of Australia in 2009/2010 saw a brilliant comeback by the Australian team which will remain in the cricketing books forever. Pakistan's bowling attack was led by Mohd. Asif, who demolished the mighty Australians tfor 127 runs and in reply put on a total score of 333 runs.
ADVERTISEMENT
Article continues below this ad
Pakistan was heading towards a victory. After dismal show with both bat and ball in first innings, the Australians forged a comeback in the 2nd innings, first scoring 381 runs and then bowling out the Pakistan team for 139 runs as they eventually ran out winners by 36 runs.