10 Greatest Wimbledon Players of the Open Era
Published 08/08/2018, 6:25 AM EDT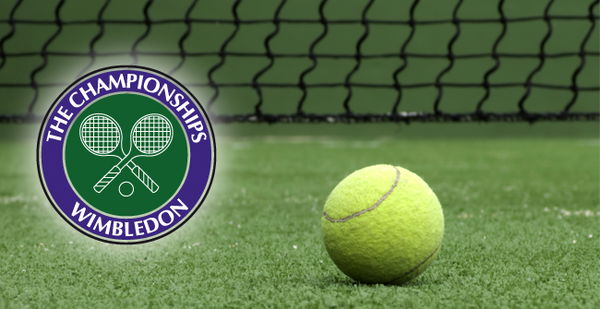 ---
---
Wimbledon is arguably one of the greatest and most famous sporting events, throughout history. Year after year, fans get to witness some magnificent tennis from some of the greatest players to ever pick up a tennis racquet. With so much history and traditions surrounding Wimbledon, it is the one tournament that all tennis stars dream about winning more than any other.
ADVERTISEMENT
Article continues below this ad
Over the years there have been several legendary players who have mastered the grass surface at the All England Lawn Tennis and Croquet Club and the task of narrowing it down to 10 has been a difficult one.
But here is our 10 greatest Wimbledon players, gentlemen and ladies, in the Open Era.
ADVERTISEMENT
Article continues below this ad
10. Boris Becker (Germany)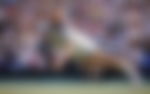 Record at Wimbledon
Winner : 1985, 1986, 1989
Runner-Up : 1988, 1990, 1991, 1995
Nicknamed 'Boom Boom Becker' for his brilliant serve and volley game, Boris Becker is a Wimbledon legend. His dominance came in the late 1980s as he reached 6 out of the 7 Wimbledon Finals between 1985 and 1991, winning three of them.
When Becker won the Championship in 1985 at the age of 17 years and 227 days, he was the youngest ever Grand Slam champion, a feat which has since been beaten only once by Michael Chang at the 1989 French Open. He successfully defended his title in 1986. The next year was a disappointing one as Becker lost out early in the tournament to unseeded player, Peter Doohan. But Becker came back strong to reach the Finals of the next four years.
The 1988 Final between Boris Becker and Stefan Edberg of Sweden marked the beginning of a great rivalry. The pair contested the 3 finals between 1988-90, with Edberg winning two and Becker winning the 1989 edition.
Boris Becker will be remembered for his brilliant athleticism on the court and his frequent emotional outbursts. He retired with 6 Grand Slams and currently is the coach of World No. 1 Novak Djokovic.
9. Billie Jean King (USA)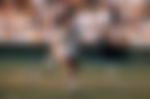 Record at Wimbledon (Open Era)
Winner: 1968, 1972, 1973, 1975
Runner-Up: 1969, 1970
American Billie Jean King would have been much higher up in this list if Pre-Open Era tournaments were also considered. Billie Jean King holds the record for most Grand Slam wins at Wimbledon, with 20 titles which includes 6 wins in Singles and 14 in Doubles (10 Ladies' and 4 Mixed).
Between the 10 years from 1966 and 1975, Billie Jean reached 8 Wimbledon Finals, winning 6. She started with 3 consecutive victories from 1966 to 1968, from which only the last was in the Open Era. She went on to lose consecutive finals in 1969 and 1970, but came back to win 3 more in 1972, 73 and 75.
King is true ladies' tennis legend and one of the greatest Wimbledon players. She retired with a total of 12 Grand Slam Singles titles.
8. Serena Williams (USA)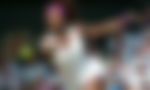 Record at Wimbledon
Winner: 2002, 2003, 2009, 2010, 2012
Runner-Up: 2004, 2008
In the 13 years between 2000 and 2012, only on 3 occasions was Wimbledon not won by either of the Williams sisters. These American sisters dominated ladies' tennis for most of the 2000s, especially at Wimbledon.
Although Serena has achieved so much more than Venus overall, Wimbledon is one tournament where the two found equal ground. Serena won consecutive Wimbledon titles in 2002 and 2003, after which she had a long bad spell at the Championships. It was only 6 years later that she finally lifted the prestigious trophy again. Since then, she's been back at her best, winning in 2010 and 2012 to equal Venus Williams' tally.
Gifted with powerful arms that all ladies players dream of, Serena makes easy work of most of her opponents. She is well on course for a 6th title at Wimbledon if she carries on her terrific form this year.
7. John McEnroe (USA)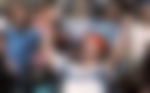 Record at Wimbledon
Winner: 1981, 1983, 1984
Runner-Up: 1980, 1982
Arguably the most controversial World No. 1 in tennis history and yet one of the greatest players ever. John McEnroe was quite a character with his constant on-field outbursts against the officials and his unorthodox serving style. But there's no denying that McEnroe, a master of the serve and volley game, is one of the greatest ever to play at the All England Club.
What most people remember about McEnroe's Wimbledon career is his 2 Finals against Bjorn Borg in 1980 and 1981. The first of them is widely regarded as one of the greatest ever tennis matches, which Borg won in 5 sets. But, McEnroe got his due revenge the next year, dispatching Borg in 4 sets. The Borg-McEnroe rivalry is considered one of the greatest in sporting history.
McEnroe then lost the 1982 Wimbledon final to Jimmy Connors, but came back again the next year to win, after losing just a single set in the whole tournament. The next year 1984 was McEnroe's best year as he yet again won the tournament losing just 1 set and thrashed Connors 6-1 6-1 6-2 in the Final in just 80 minutes.
6. Venus Williams (USA)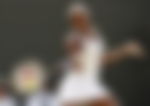 Record at Wimbledon
Winner: 2000, 2001, 2005, 2007, 2008
Runner-Up: 2002, 2003, 2009
The only tournament list where Venus Williams would be ranked higher than her sister Serena is at Wimbledon. For the 10 years between 2000 and 2009, Venus Williams was the dominant name at the All England Club, with her reaching 8 finals, winning 3.
Venus was gifted with a powerful serve and her wide made it easier for her to get to her opponents' shots. She was always most comfortable playing on grass, which is reflected in her 5 Wimbledon titles and just 7 Grand Slams overall.
In 2002, Venus became World No. 1, the first black woman to do so. The Williams' domination in the 2000s will go down as one of the greatest periods in ladies' tennis.
5. Björn Borg (Sweden)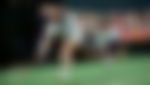 Record at Wimbledon
Winner: 1976, 1977, 1978, 1979, 1980
Runner-Up: 1981
If Bjorn Borg hadn't shockingly retired at the age of 26, many believe he could have easily beaten all possible records in gentlemen's tennis. Even with this short career, the Swede managed plenty of records. It is rare to see a player who can adapt to both extreme courts as easily as Borg did. His 6 French Opens and 5 consecutive Wimbledons (3 times in the same year) stands proof that Borg is a true tennis legend.
Bjorn Borg holds the record for most consecutive wins at Wimbledon when he won 41 straight matches between 1976 and 1981, winning 5 in a row, to lose the 6th to his great rival John McEnroe. His 5th and last Wimbledon trophy in 1980 is arguably one of the greatest Grand Slam Finals in tennis history, at par with the Federer-Nadal Final in 2008.
In 1976, Borg won Wimbledon without losing a single set as a 20 year old, the youngest male Grand Slam champion at the time. His opponent in the Final, tournament favourite Ilie Năstase said after the final, "We're playing tennis, he's [Borg] playing something else."
4. Steffi Graf (Germany)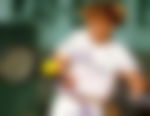 Record at Wimbledon
Winner: 1988, 1989, 1991, 1992, 1993, 1995, 1996
Runner-Up: 1987, 1999
The greatest Ladies' tennis player in the Open Era, Steffi Graf has a host of records to her name. The best part about Graf was her ability to adapt to different surfaces easily, which shows in her Grand Slam record, having won atleast 4 of each Grand Slam. But Wimbledon was always her favourite, having won at the All England Club 7 times in 9 Finals.
Her most famous year was 1988 when she became the first and only tennis player to complete the Golden Slam (4 Grand Slams and Olympic Gold). In Wimbledon that year, she halted Martina Navaratilova's 6 consecutive wins at Wimbledon. She went on to beat Martina yet again in the Final next year. Her loss in the Semi-Finals in 1990 ended her run of 13 consecutive Grand Slam Finals.
Armed with a lethal forehand which earned her the nickname of Fräulein Forehand, Graf managed to easily beat opponents in the early 1990s. With the emergence of the young Monica Seles, a great rivalry was being born. But the infamous Seles stabbing in 1993 ended what could've been a magnificent career and a great rivalry.
Steffi Graf went on to win the Wimbledon in 1991, 1992, 1993, 1995 and 1996 to cement her spot as one of the greatest Wimbledon players of all time.
3. Pete Sampras (USA)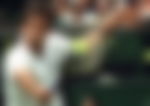 Record at Wimbledon
Winner: 1993, 1994, 1995, 1997, 1998, 1999, 2000
Runner-Up: None
Pete Sampras, the man with a perfect record in Wimbledon Finals. In the 8 years from 1993 to 2000, Sampras just lost one game (1996 QF to eventual winner Richard Krajicek) at Wimbledon, claiming 7 titles in majestic fashion.
A master of the serve and volley game, Sampras felt right at home in the grass court as his aggressive gameplay grinded out winner after winner in all corners of the tennis field. Pete Sampras is adored by the Wimbledon crowd, who gathered year after year at the All England club to watch the American thrive.
His first Wimbledon title was against the then World No. 1 Jim Courier. Sampras went on to take the World No. 1 spot for a long time since. His toughest opponent in a Wimbledon Final was in 1998 when he played the intimidating Goran Ivanišević. The 1999 Wimbledon Final against Andre Agassi is considered one of his best ever performances.
Sampras retired with 14 Grand Slam Singles titles, a record which has since been broken only by Roger Federer. Half his titles was at Wimbledon, making him undoubtedly among the greatest Wimbledon players of all time.
2. Roger Federer (Switzerland)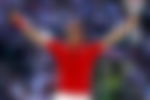 Record at Wimbledon
Winner: 2003, 2004, 2005, 2006, 2007, 2009, 2012
Runner-Up: 2008, 2014
There aren't enough superlatives to describe this legend. Roger Federer is arguably the greatest male tennis player of all time. 17 Grand Slams in all, but he is most famous for his exploits on the grass courts of Wimbledon.
As he glides across the grass elegantly, placing his shots effortlessly, the world stops and stares in amazement. Roger Federer burst on the tennis scene when he won his first Wimbledon title in 2003, beating Philippousis. He then went on to win 4 more consecutive titles at Wimbledon equalling Bjorn Borg's record.
The 2008 Wimbledon Final against Rafael Nadal is considered to be the greatest ever Grand Slam Final in recent history. Federer, aiming at a 6th consecutive Wimbledon, lost in 5 sets to a brilliant Nadal. But Federer came back a year later to win the 2009 championship.
With him later slowly going out of form, few backed Federer for winning yet another Wimbledon title. But being the legend he is, he battled all odds to win the 2012 Wimbledon title to seal his 17th and last Grand Slam to date and to equal with Pete Sampras at 7 titles at the All England Club.
We're done with 9 legends, but who could possibly be better than Federer at Wimbledon?
1. Martina Navratilova (USA)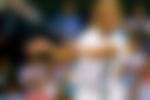 Record at Wimbledon
ADVERTISEMENT
Article continues below this ad
Winner: 1978, 1979, 1982, 1983, 1984, 1985, 1986, 1987, 1990
Runner-Up: 1988, 1989, 1994
Wimbledon records galore for Navratilova, undoubtedly one of the greatest Wimbledon players of all time, if not the best. Her 9 titles in the championships is more than any other player both male and female, before and in the Open Era. Navratilova holds the record for the most titles won at Wimbledon with 20 titles (9 singles, 7 Ladies' Doubles, 4 Mixed Doubles), which she shares with Billie Jean King.
In the 9 years from 1982 to 1990, Martina reached every single Wimbledon Final, winning 7, of which 6 were in a row, the only player in the Open Era to win 6 consecutive titles at the same Grand Slam. Her streak was broken by another young legend in the making, Steffi Graf in 1988.
ADVERTISEMENT
Article continues below this ad
She began her dominance in the late 1970s, when she beat the World No. 1 Chris Evert to win her first Grand Slam at the 1978 Wimbledon. This was the start of what was to be one of the greatest rivalries in sporting history between Navratilova and Evert. The pair met in a total of 14 Grand Slam Finals, of which 5 were in the Wimbledon, all of which were won by Navratilova. Her brief rivalry with Steffi Graf later in her career was also noteworthy as they met in 6 Grand Slam Finals, 3 times at Wimbledon of which Graf won 2.
Navratilova won the last of her 9 Wimbledon titles in 1990 at the age of 33. She retired with 18 Grand Slams.