10-Year Old Michael Phelps Record Broken by 19-year-Old Hungarian Boy
Published 07/25/2019, 3:50 AM EDT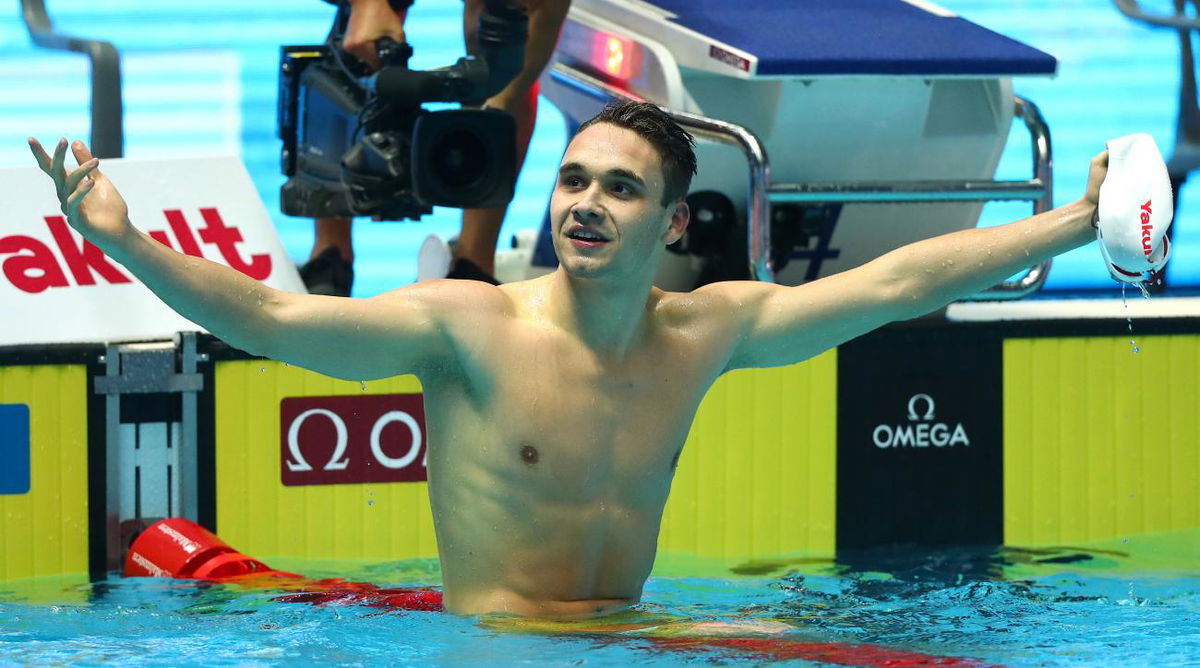 ---
---
In a recent groundbreaking event, the time for the 200 meters butterfly record help by the legendary Michael Phelps was broken by Kristof Milak of Hungary at the World Aquatics Championships in Gwangju, South Korea. The Budapest-born Milak won gold in a time of 1:50.73, lopping 0.78 seconds off Phelps' 1:51.51 set in Rome in 2009, becoming only the second teenager after the Baltimore Bullet to achieve a similar feat.
ADVERTISEMENT
Article continues below this ad
While he was deemed to be the favourite, considering he is the reigning European champion, breaking such a major record was not on the books. Another frightening number is the margin of his victory – 3 seconds. 3 seconds in swimming parlance is equivalent to a light year. Well, that's what runner-up Daiya Sato must be thinking in his hotel room while watching re-runs of this magnificent race.
During the onset of the race South African Chad le Clos set the tone of the event as he was under world-record pace at the halfway mark. However, it wasn't to be his day as Milak stormed past him and the rest of the competitors in the second half of the race, leaving the entire audience shell-shocked.
ADVERTISEMENT
Article continues below this ad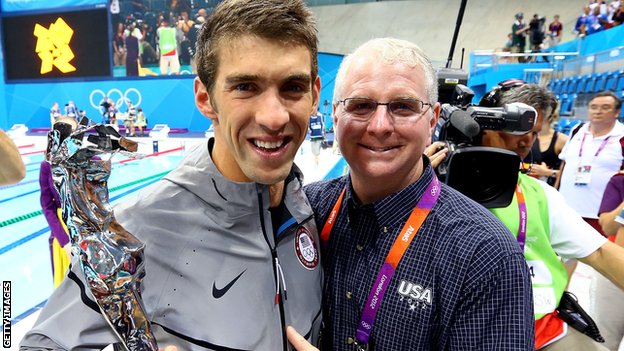 Shortly after the triumph, Milak was shocked and ecstatic at the same time. This is what he had to say in his press conference –
"I tried to switch off everything, and I tried not to think of swimming at all before the race. It's a tremendous honour to set such a great record."
"Once I did my dolphin kicks, I started to focus solely on myself," Milak added. "I didn't think of anything else, just my rhythm that I practice in training."
"It's a tremendous honour to set such a great record," he said. "Until 14 I was a backstroker and later I focused on the butterfly. But earlier I only did 100 meters because I wasn't strong enough."
Re-live the moment here:
WR alert!! 🚨🚨🚨🚨
Kristof Milak sets a World Record stopping the clock in 1:50.73 in the 200m Butterfly! 🇭🇺
He beats @MichaelPhelps record from 2009! CONGRATS, Kristof! 💪💦🏊‍♂️#FINAGwangju2019 pic.twitter.com/XOTJaeEiwe

— FINA (@fina1908) July 24, 2019
Here were the final standings:
The Hungarian has a classic small-town story. In a previous interview, when asked about his preparation leading in to his professional swimming career, he said that he grew up watching Michael Phelps' videotapes which he could only manage to get poor quality copies of. He would zoom into every pixel, look at the screen from every angle, to get his memory tuned to the perfect technique. It is this zeal that has paid off. The Hungarian would be doubly proud that his idol was watching him live online during the race, and watching his long-standing record get broken much to his delight.
"As frustrated as I am to see that record go down, I couldn't be happier to see how he did it," said Phelps. "That kid's last 100 was incredible. He put together a great 200 fly from start to finish."
"It happened because there was a kid who wanted to do it, who dreamed of doing it, who figured out what it would take to do it, who worked on his technique until it was beautiful and who put in the really, really hard work that it takes to do it," Phelps said in a phone interview. "My hat's off to him."
Nothing like the baton shifting hands in sport, is there!
The swimming fraternity shouldn't be mighty surprised about the record being broken because young Milak has shown promise consistently in his career. The Hungarian is also the current world junior record holder in the 200m butterfly category. His other records include:
New junior world record and new national record (50.62) at the 100 metre butterfly at the 2017 World Aquatics Championships.
Gold medal in the men's 200 metre butterfly event at the 2018 European Aquatics Championships.
3 gold medals and one silver medal at the 2018 Summer Youth Olympics.
By breaking the Baltimore Bullet's record, Milak became the first man since Serbia's Milorad Cavic (a decade ago) to beat Phelps.
Twitterati wasn't short of praise for the young boy either:
Phelps will always be the king of the 200 fly — he held the world record 18 years continuously, to the day, which is staggering. But Kristof Milak is the new prince.

— Pat Forde (@ByPatForde) July 24, 2019
Kristof Milak just crushed Michael Phelps' 200 Fly World Record of 1:51.51 with a 1:50.73. This sport is getting FAST.

— Kyle Sockwell (@kylesockwell) July 24, 2019
10 years after the ban on shiny suits Hungarian Kristof Milak takes down @MichaelPhelps 200 'fly WR in 1:50.73!!!

— StateOfSwimming.com (@StateOfSwimming) July 24, 2019
And a little something from his practice partner from the juniors:
Two years ago I watched Kristof Milak 🇭🇺 prepare for the 2017 World Juniors. I had a feeling he was going to be something special. Now he is a world record holder 🌍 pic.twitter.com/VPhXocDFvC

— Andy Ross (@andy_ross4) July 24, 2019
Well the shower continued…
🦋⏰ World Records broken in the 200m Butterfly…

– 2019: Milák

– 2009: Phelps

– 2008: Phelps

– 2007: Phelps

– 2007: Phelps

Kristóf Milák has broken Michael Phelps' 10-year-record!#FINAGwangju2019 pic.twitter.com/VTd5tJas9S

— Football Fact (@FootbaIlFact) July 24, 2019
#KristofMilak has written history today🇭🇺🥇💪🏊‍♂️🏆 at @FinaGwangju. He has overcome @MichaelPhelps in 200m butterfly w/ an amazing 1:50.73 beating @chadleclos who earlier said Milak will lift butterfly to an other dimension. & he'll be only 27 at #FINA2027 by @fina at #Budapest… pic.twitter.com/ZiA20m6B1z

— Balázs Fürjes (@BalazsFurjes) July 24, 2019
Is
Kristof Milak
the next Michael Phelps? Well, that only time will tell. And to do so, he has a seemingly insurmountable legacy to overturn – the Baltimore Bullet was 15, yes you heard it right, just 15, in 2001 when he set the fastest time for the 200m butterfly. This led to the event being his signature, as he created world record after world record, eight times in total. With a tally of 28 (23 were gold medals and 13 of them were won in individual events, both of which are also records), the 34-year-old is the most successful and most decorated Olympian in history Through his career, Phelps has broken 39 world records across all events and actively holds records in many such events. Not too shabby, eh?
The strength and tenacity shown by this youngster shows his mettle and with age on his side, he can very well be the Michael Phelps Europe has been looking for. Fans remain excited now as the Hungarian will contest the heats of the 100-m butterfly event on Friday, in an attempt to reach Saturday's final.
ADVERTISEMENT
Article continues below this ad
Watch what he had to say in an interview 10-months ago:
Hear what Hungary's rising swimming star Kristof Milak said about the great Michael Phelps at the Youth Olympic Games in Buenos Aires last October.

Ten months later, Milak breaks Phelps's 200m butterfly world record at #FINAGwangju2019.

👉 https://t.co/RcN9RbsYUI@fina1908 pic.twitter.com/YI8UQLrl1t

— Olympic Channel (@olympicchannel) July 24, 2019
ADVERTISEMENT
Article continues below this ad
More from EssentiallySports on Swimming