100 Of The Best: A Day in the Life for Aguero
Published 04/21/2016, 5:38 AM EDT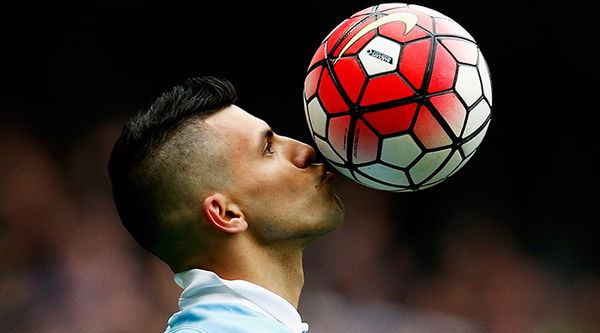 ---
---
"Aguerooooooooooo" As Martin Tyler shouted out the name in sheer thrill, millions of hearts were broken across the world as the club with the greatest world wide support lost the league title to their neighbours and in some spectacular fashion too! Manchester United had done all they could on that fated final day of the season, winning their match and getting the 3 points. Well, not all. They would have had to win by an enormous goal difference to turn the title in their favour, but City still needed to win their match to make goal difference count. And when QPR came back from a goal down to take the lead with half an hour left to play, The Citizens were worried. But  up stepped Aguero in the dying embers of the match, taking the ball past one defender before slamming home the league winner for Manchester City. The match was as dramatic as it could get, with two City goals coming in added time and the joy of victory was evident in the celebrations as Aguero tore off his shirt in exhilaration. A more dramatic goal had not been seen in England since Michael Thomas prodded home past Grobbelaar in 1989. Certainly, it was the most dramatic one since the inception of the Premier League.
ADVERTISEMENT
Article continues below this ad
It is most fitting perhaps that a goal of such tremendous magnitude was scored by a man who has left an indelible mark on English football. With QPR down to ten men and Manchester City basically throwing in all the bodies they had into the box, the goal could have come from almost anyone – an own goal courtesy a wicked deflection, a tap in from a center back from a rebound – but that it came from one of the greatest strikers to grace the Premier League gives that moment an extra touch of class.
Sergio Kun Aguero belongs to a rare breed of footballers – he is one of those players you would find difficult to even dislike, let alone hate. And in today's world, where the internet makes trolls about incidents before you can see the replays and fans find the need to throw some quality banter at every opposition to prove their own worthiness, it is indeed an exclusive club. And on Tuesday night Aguero gained membership to another club that is quite exclusive in it's own right – the  100 goal club in the Premier League. His brilliant hat-trick against Chelsea in the weekend got him to 99 and he made the magic number when he headed home against Newcastle. 100 goals, and only Alan Shearer got to that milestone quicker than him.
ADVERTISEMENT
Article continues below this ad
Now the few detractors that he may have will rightly argue that the goal was offside but I would like to think that if anyone, he can be cut some slack for it. For a player with such huge misfortunes with regard to injuries, maybe a little bit  of luck can be considered to redemption, though obviously Newcastle won't feel that way in the middle of their relegation battle. But the point is not to justify the bad decision but rather to not let it take away from his magnificent feat, for the Century would have been reached later in that match itself or the next one in all probability had it been ruled out. Because let's face it, there is a reason why he got to 100 goals in such less time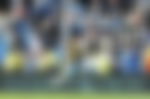 100 goals in 147 appearances. That is no easy feat. But for a player of his abilities, a finisher with an eye for a goal like a tigress has for her prey, it seems ordinary. The Argentine is easy on the eye when on the ball, and often does produce some marvellous goals. Long range curlers like the one he produced at Stamford Bridge in the weekend. Acrobatic volleys like the one he performed in a 4-1 demolition of Manchester United. But what he really excels in is simply putting the ball in the back of the net from wherever he needs to. A more clinical striker has not graced the Premier League this decade and probably will not do so in what is left of it either.
He arrived at The Etihad as a big name from Atletico Madrid, the latest in their fine production line of strikers at the time following Fernando Torres' success at Liverpool, and immediately made an impact scoring a brace in his half hour debut. The goals kept coming that season, including one in the 6-1 rout of Manchester United. Aguero's signing really did mark the beginning of Manchester City's successes as their first league triumph duly coincided with his first season there. And ofcourse, his debut season was commemorated with that last minute title winning goal which sealed his place in Premier League history. But ofcourse, the Argentine wasn't finished making his history there.
The goals kept coming an in 2014, he helped his team to their second Premier League title. The Champions League kept eluding them, but domestic triumphs had kept the mood lifted. In 2014/15 he would go on to earn his first Golden Boot in the league with his highest return of 26 strikes, but it was the match against Bayern Munich that was his moment of the season.
Guardiola's Bayern Munich were heavy favourites for the match but we're stunted when Benatia hacked Aguero inside the box and saw an early bath. The Argentine duly converted his spot kick, but Bayern were not to be deterred. Goals from Xabi Alonso and Robert Lewandowski saw City trailing at the break. On any other day, those goals would be talking points for weeks to come. Alonso scored from a smartly taken free kick, curling a grounded shot around the wall that took Joe Hart by surprise. Lewandowski's goal was a show of power and precision as he held off pressure from Sagna and jumped to loop a header over the England number 1.
ADVERTISEMENT
Article continues below this ad
And up stepped Aguero yet again. Winning the ball back thanks to a poor pass from Bayern Munich, Aguero raced through a gaping hole in the Bayern defence before calmly slotting the ball past an onrushing Neuer with his weaker left foot. Five minutes later, he claimed the match ball, taking advantage of yet another defensive lapse before wrong footing Manuel Neuer and giving Manchester City another memorable victory.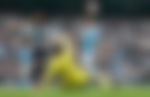 He entered the 100 goal club against Newcastle, and a few months back made another record against the Toons. In the reverse fixture this year at the Etihad, Aguero blitzed 5 goals in 18 minutes making it the quickest 5 goal haul in Premier League history. But records mean less for Aguero than winning football matches does. Some argue that Aguero is lucky to have had some fantastic providers during his time at City, but it is indeed an art to convert any given chances into goals. Mesut Ozil of Arsenal can testify, having created the highest number of chances since coming to the Premier League and yet he saw very few of those getting converged, atleast before this season anyways.
ADVERTISEMENT
Article continues below this ad
At a time when the footballing fraternity is slowly getting filled with Prima Donnas who act more like thirteen year old pop sensations and less like footballers, Sergio Aguero is a superstar for all the right reasons. Which is probably why he is not really treated as one. Seldom a figure of controversy, the Argentine has, for most of his career in the Manchester Blue, spent his time scoring goals. He will take a kick, get injured, come back and get back to scoring goals. And that is what makes him special. If you hear his name in the news, it is almost certainly going to be because of footballing reasons and good ones at that. So we hope you keep going and keep reminding us of the aesthetic pleasure of watching a good finish.