100 Thieves Announce Their Completed Valorant Roster
Published 10/03/2020, 7:57 AM EDT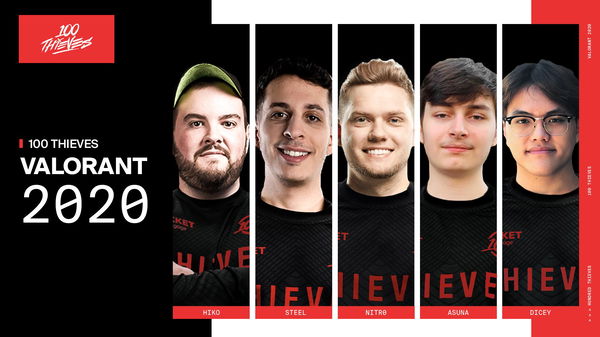 Esports organization 100 Thieves, owned by Nadeshot, have been expanding to other games. They recently entered the foray in Valorant, for which they had been building a roster for a while now. Finally, they have acquired the last two players needed to complete their team and announce the roster on Twitter.
ADVERTISEMENT
Article continues below this ad
Before the announcement, 100 Thieves' Valorant roster consisted of Spencer "Hiko" Martin, Joshua "steel" Nissan, and Nicholas "nitr0" Cannella. All of these are former CS:GO professionals, who retired from the game to shift to Valorant. Apart from these three, 100 Thieves have picked up two teens who formerly played for Immortals Valorant.
ADVERTISEMENT
Article continues below this ad
Wonder Teens Join 100 Thieves Valorant
The organization picked up two 17-year-olds. Peter "Asuna" Mazuryk and Quan "diceyzx" Tran were teammates at Immortal Valorant. While they don't have major winnings or achievements with their previous team, 100T has high hopes from them.
Considering the demographic of the team, it appears that 100T wants a blend of three experienced players and two youngsters as a surprise package. This would make the team less predictable at higher stages.
While the Valorant Ignition series is over, there are many new tournaments coming up for the team to figure out their chemistry. The youngsters will have a great opportunity to learn from all the other experienced professionals.
The announcement has also pleased a majority of 100T fans. They are excited to see a dynamic team represent their favorite organization.
ADVERTISEMENT
Article continues below this ad
The roster looks promising in the North American region; however, they will need a lot of practice to go up against giants like G2, who didn't lose a single game in the Ignition Series. Additionally, the remaining two players who were filling in till 100T completed their roster will be used as reserves for the team.
ADVERTISEMENT
Article continues below this ad
100T also has a chunk of its budget freed up after the departure of Chet as their CS:GO coach. Therefore, they can use the extra money to appoint someone to look over their Valorant roster.
Overall, it looks like a good phase for 100 Thieves. After a period of performance slump, they will be ready to make an impact in Esports once again.