100 Thieves Announce Their Mega Plan for Valorant
Published 04/10/2020, 8:39 AM EDT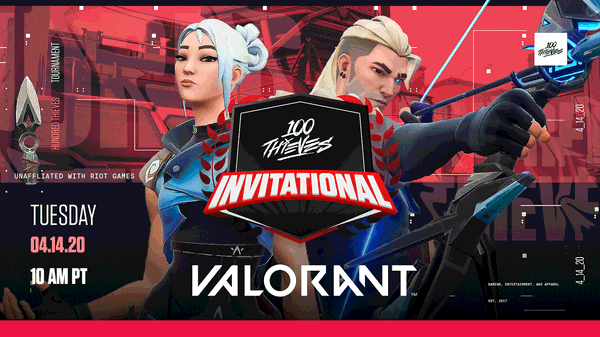 Last week, Riot Games released the closed beta of Valorant. Many gamers have been eagerly awaiting this video game from the creators of League of Legends.Now, League of Legends team, 100 Thieves plans to host a content creator tournament for Valorant in a few days time.
ADVERTISEMENT
Article continues below this ad
In a Twitter announcement, 100 Thieves declared its intention to host an eight-team invitational event on April 14. Over here, some of the "biggest content creators in the world" will act as the team captains.
Additionally, 100 Thieves coaxed fans to tag their favourite content creators. According to 100 Thieves' tweet, the tournament is scheduled to begin at around 12pm CT on April 14.
ADVERTISEMENT
Article continues below this ad
How will this Valorant tournament pan out?
100 Thieves Invitational: VALORANT.

4.14.20

8 teams captained by some of the biggest creators in the world.

Tag who you want to see in the tournament. 👇 pic.twitter.com/NoaSLyd59H

— 100 Thieves (@100Thieves) April 10, 2020
ADVERTISEMENT
Article continues below this ad
Valorant's closed beta released on April 7 to plenty of fanfare and gamers flooding onto Twitch to watch the streams. Millions tuned in to watch streamers playing the game on Twitch and many more are still awaiting access to the beta.
However, Riot Games has kept the game's esports scene a closely guarded secret. Admittedly, executive producer Anna Donlon and game director Joe Ziegler confessed their preference for the competitive side of the game. The two hoped that this aspect of the game will be "a little more grassroots."
Coming to 100 Thieves, the group has fielded numerous teams across multiple esports scenes. They even played host to a few events, with their last one being a $100,000 Warzone From Home tournament in March.
ADVERTISEMENT
Article continues below this ad
However, it is note-worthy that in spite of the announcement, no further details of the event has been released. In other words, there is no talk about the location, prize money, tournament format or anything of the like. It is already the 10th of April, so 100 Thieves will likely release more information in the coming days.
Of course, given that there is a health crisis enveloping the world, there won't be a fixed location. In other words, players may be forced to stay at home for the tournament. At least their followers will have a chance to watch the livestream from the comfort of their homes.