1992 Monaco GP: Ayrton Senna versus Nigel Mansell
Published 12/12/2017, 11:35 AM EST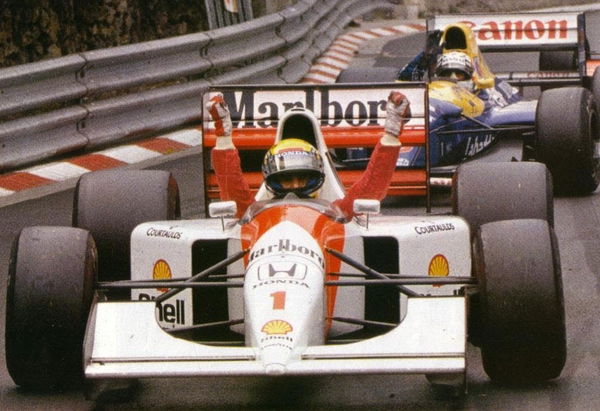 The 1992 F1 season was a picture perfect one for Nigel Mansell and Williams. Seldom has any driver dominated to such an extent, to what Mansell did in 1992. In the previous eight years, the race at Monaco had been won by either Ayrton Senna or Alain Prost. Mansell seemed the only man who could make it otherwise, this year. He grabbed the pole position, being more than a second quicker than his team mate Patrese and Senna, who qualified second and third respectively. It was Mansell's sixth pole of the season, and certainly the stage was set for Mansell to win his first Monaco Grand Prix. But the Brazilian had other ideas. Ayrton Senna versus Nigel Mansell, let the battle commence!
ADVERTISEMENT
Article continues below this ad
At the start of the race, third placed Senna overtook Patrese in the first lap itself. Senna was a master of the Monaco circuit, having won it four times before.
ADVERTISEMENT
Article continues below this ad
Mansell was running away. He had a car that was way faster than the McLaren, and despite the brilliance of Senna, he had no trouble on running up front. The Briton led the race till lap 70, when a loose wheel nut forced him to pit. He came out behind Senna and the much anticipated Ayrton Senna versus Nigel Mansell battle was on. With fresh rubber on, the Briton had the advantage. He was over 5s behind, with only 3 laps to go. But, Mansell was in a much faster car, on much faster tyres.
ADVERTISEMENT
Article continues below this ad
In his first lap with the fresh tyres, Mansell set the fastest lap of the race, which was almost two seconds faster than what Senna did in the same lap. Within two laps, he closed from a lead of 5.2s to just 1.9s. While Mansell tried to attack from every possible corner, this is where the brilliance of Senna came into being. His car was more than two seconds slower than the man running in second, but he gave absolutely no opening. The race was set to have a very close ending.
The Ayrton Senna versus Nigel Mansell battle for the victory was neck and neck. Mansell was seconds faster than the McLaren, but it was Senna, the man who had previously won four times here in Monaco, in the driver seat of the limping McLaren. It seemed that Mansell would get ahead of him any moment, but that moment never came.
ADVERTISEMENT
Article continues below this ad
Against all odds, Senna went on to win the race and take his first race victory of the season and fifth overall in Monaco. A straightforward Mansell victory soon turned out to be every bit dramatic and one of the most memorable finishes of the Monaco Grand Prix.
A glance at such memorable duels and battles makes one wonder what Formula One has become now. It is now more about tyre degradation, fuel conservation and strategies. There was a time when Formula One was pure driving with no strings attached. Racers who used to give their heart out for a few more points. When Formula One was a battle of the quickest, not the one with the best strategy.