Athletico Madrid: The Defensive Masterclass
Published 10/19/2016, 2:53 PM EDT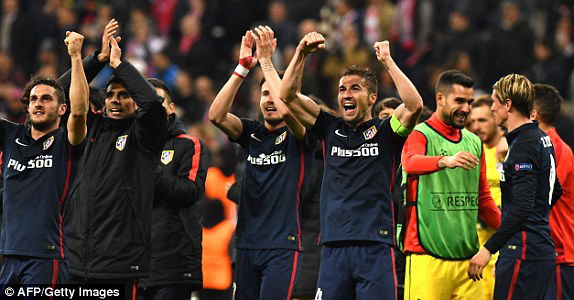 ---
---

Athletico Madrid
The best defense of all times?
ADVERTISEMENT
Article continues below this ad
5 years ago, not many football fans and pundits would've considered Athletico to even be a 'big team in Spain.' As of now, the team stands as one of the favorites to win the big title of Europe with their manager Diego Simeone. Many pundits now agree that this side may have the best defense ever by any European side in the past few years.
2 Champions League Finals in 3 years: The list of European goals conceded at the Calderón — 0, 0, 0, 2, 0, 0, 0, 0, 0, 0, 0, 1, 0, 0, 1, 0 — to know how much they hate seeing the ball in their own net.
ADVERTISEMENT
Article continues below this ad
They've defeated all the big sides as of now. So let's take a moment and analyze the brilliant defensive side that they've been.
Knowing their roles
Simeone has made sure that every defender in his back 4, clearly knows his role and abides by the good oiling machine that the side has become. Their most used formations being 4-3-3 and the new 4-4-2 as for this season.
As soon as the ball get's loose, the defense knows who's going to go for the ball. The defense makes sure no attacker has enough breathing space to get near Oblak aswell.
Juanfran and Filipe Luis have been more than just flanks for their side. Not only do they make sure that the opposition wingers get no space to play freely, but they themselves get ahead of the midfield. With Luis's movement , he has found a place as the left back -left winger Simeone always had in his mind. However,  Diego Godin  stands out as the sublime star of the defense.
No freedom for the Opposition Team: The defense presses hard. Very very hard against the oppositions. The addition of Stefan Savic to the side has been more than what the club could've ever hoped for. In la Liga, he has won 12 tackles this  with a success rate of 56%. He has made 16 interceptions, 38 clearances and 10 blocks, which has given his captain, Godin, ample of opportunity to go ahead and attack.
If the ball goes to one of the wingers, the team shifts to that side of the pitch and that attacking player is closed down immediately. With no room to breath, his only option remains to pass the ball to his fellow teammate, resulting in an intercepted pass. If a player gets past that midfielder, there's another player waiting just behind him.
The advantage of being set up so narrowly is that when there is a loose ball, there are players standing close together in the same area waiting to grab it and play it forward to the striker.
The most flexible CMs: The central midfielders in front of the defense usually patrol, close down, challenge and force backward, leaving the defense behind them to clear any lofted deliveries into the area.
At times, coaches try to get as many central midfielders into their team as possible, protection first; now there's more width, more willingness to commit. Simeone seems ready to leave Koke centrally; now, finally, he seems to think that Koke is ready too, and that could impact everything. He often goes deep back into defense and is not shy of getting ahead in the attack.
"Extraordinary" as described by his manager.
"He feels more and more like the master of the play," Simeone said.
"He reads the game fantastically, he works well, the team comes out much more quickly when it gets the ball back when he is there, and [being inside] he gives us an extra option on the wing."
No Bus Parking: This is not the classic 'all hands on the back' style of defense. This is aggressive, brutal and 'believing in them' style of play. The default formation of the team is to sit deep in a narrow, compact shape in order to prevent the opponent from creating scoring opportunities for the opposing midfield and strikers.
Athletico in their fixture against FCB. Look how closely the defense is knit and how clearly the players are not allowing Andres Iniesta to work his magic.
ADVERTISEMENT
Article continues below this ad
Instead of trapping their opponents near the touchline (while playing in 4-4-2), Atlético is preventing them from progressing by pressuring regularly their centre-backs to force them to get rid of the ball. This specific task falls to Gabi or Koke (central midfielders) who must push up to close down centre-backs and force the error.
Utter Discipline from his army: No team trains harder under the orders of their much-famed fitness coach Oscar Ortega and his right-hand man Carlos Martinez. Their pre-season routines are the stuff of legendary long hours of workouts and well-synchronized rehearsals of understanding their roles in the team, in effect, preparing the player for what comes in the grueling summer sessions.
Each player has his own dedicated fitness plan tailored to maximizing his own capacity in order for them to be able to do what Simeone and Burgos ask of them once the season starts. The players show appreciation of the dedication the club puts ion them.It's no doubt that they have hardly conceded goals this season, and have been scoring them as well.
ADVERTISEMENT
Article continues below this ad
Not everyone makes it, though. Arda Turan complained of too much running – half in jest, half seriously – and is now at Camp Nou. Players such as Jackson Martinez arrive and then disappear after less than half a season because they simply cannot handle the physical and mental stamina the manager demands. Atletico signed Luciano Vietto from Villarreal, but he was knocked sideways by the training sessions and is currently out on loan at Sevilla.
Simeone demands commitment from his players and makes sure that either his players deliver it, or find themselves either on the bench or in some other teams' colors.No wonder he has made this "other team of Madrid" as one of the, if not the best team in the World!