Top Djokovic Stats You Might Have Never Heard Of
Published 05/21/2016, 4:48 PM EDT
By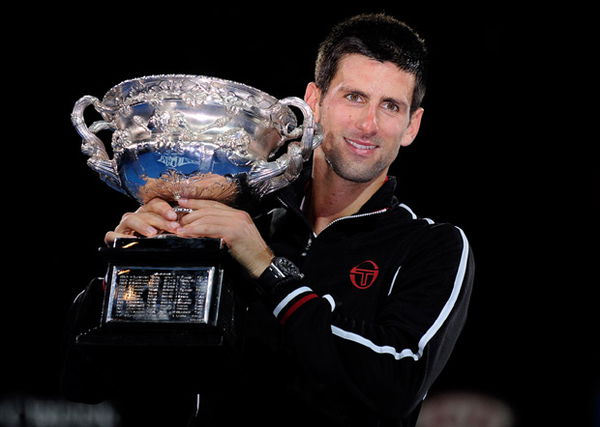 One would have to go all the way back to the 2009 French Open to find the last Grand Slam quarterfinal that didn't include Serbian world number 1 Novak Djokovic.
Today, on his 29th birthday, EssentiallySports  gives you some Djokovic numbers which will leave you flabbergasted as a tennis fan:
Novak is the only man to have beaten Roger Federer in all four majors, and likewise Federer is the only man to have beaten Djokovic in all four Grand Slam events. Deuce!
The 2013 semi-final between Novak and Del Potro is the longest semi-final in Wimbledon history – 4hrs, 43mins. Boris Becker and Ivan Lendl held the previous record (4hrs 1min, 1989).
With a 6-3, 6-4 win over Roger Federer in the 2015 London final, Novak became the first man in history to capture four successive Barclays ATP World Tour Finals singles titles. Djokovic is the fourth player who won the year-end championship at least five times. He joined: Federer (six titles), Lendl and Sampras (five).
Novak is one of only four men to be named ITF World Champion four or more times, alongside Ivan Lendl, Pete Sampras and Roger Federer.
Novak became the first player to claim 30 match wins against Top 10 opponents in a single season.
With a 7-6 (1), 6-7 (10), 6-4, 6-3 win over Roger Federer in the 2015 Wimbledon Championships final, Novak became just the seventh man in history to win 200 Grand Slam matches.
With victory over Andy Murray in the Madrid Open final, Novak became the new career ATP Masters 1000 titles leader (29).
On Gencic's advice, Djokovic moved to Munich, Germany, as a 13-year-old and trained at tennis coach Nikola Pilic's academy. At 14 years, Novak had already started creating waves. In 2001, he became a triple European champion in singles, doubles and team competition.

In January 2012, Novak defeated Nadal for a seventh consecutive time, this time in five sets to win his third Australian Open title and fifth grand slam singles title overall. The match lasted 5 hours and 53 minutes, making it the longest final in Open Era Grand Slam history, as well as the longest match in Australian Open history.
Novak is the first man in the Open Era to win three successive Australian Open titles (2011, 2012, 2013). He also went on to win the title in 2015 and 2016 again, tying with Roy Emerson for the record of winning most number of Australian Open titles (6) of all time. He won his first first Australian Open in 2008.
With a 7-5, 6-3, 6-1 win over Nadal in the 2015 French Open quarter-finals, Novak became the only man to have beaten the Spaniard in all four majors.
Djokovic won his first grand slam singles title at the 2008 Australian Open after defeating Jo Wilfried Tsonga in the final in four sets, and became the youngest player in the Open Era to have reached the semi-finals or better at all four Grand Slam events.
Djokovic has won all the big 6 tournaments in 2015 with an exception of Roland Garros. He took the Australian Open with a four-set win over Andy Murray, then won all four Masters 1000 events followed by his 3rd win at Wimbledon. The wins in the finals came over Roger Federer (Indian Wells), Andy Murray (Miami), Tomas Berdych (Monte Carlo) and Federer (Rome).  In 2016, he started strong with his 60th career title in Doha, defeating Nadal and broke his own ATP ranking points record, bringing it up to 16,790. He went on to win Australian Open, Qatar, Indian Wells, Miami and Madrid. He surpassed Roger Federer to become the all-time leading prize money winner on the ATP tour with career earnings of $98.2 million. Djokovic has more ATP points than Andy Murray No. 2 and Roger Federer No. 3 combined. This is a very very rare occurrence in tennis terms.
Novak is the youngest player in the Open Era to defeat the top three players in succession (Canada Masters, 2007).
With victory over Milos Raonic in 2014 BNP Paribas Masters final, Novak claimed his 600th match win becoming the fifth active player to reach the milestone (joins Federer, Nadal, Hewitt and Ferrer).
With the win at Australian Open this year, Novak reached his 27th consecutive Grand Slam quarter-final (2nd longest streak in Open Era).
At a point of time in 2015, Djokovic had more ATP points than Federer and Nadal combined. It actually happened for most of April, but the biggest margin in the rankings was in the week starting May 11. Djokovic had a total of 13,845 rankings points. Combined, Fedal had 13,635, a total of 210 points behind Djokovic. In 2016, he has more points than Murray and Federer combined.
Djokovic's win-percentage after taking the first set is 95.9, ahead of Bjorn Borg, whose 95.5 percent came from a win-loss record of 525-25. Novak stands at 635-27.
Djokovic doesn't have a winning record in tiebreakers against anybody in the Big 4. His record against Nadal is particularly abysmal. 
Djokovic crossed Nadal for most weeks at number 1. Djokovic has been No. 1 for more than 179 weeks in total, compared to 141 for Nadal. Although that doesn't put him even halfway at par with the Swiss maestro (302 weeks) , he is in an elite league by himself behind only The Fed, Pete Sampras, Ivan Lendl and Jimmy Connors.
His 21 top-10 wins in a 50-match stretch outpaces the best of Nadal (18, in 2013), Federer (17, in 2006-07), and Andre Agassi (17, in 1994-95). Only 12 different players have won ten top-10 matchups in a 50-match stretch, let alone 20. Novak's 23 top-10 matches is also the highest on record.
Novak is the youngest man to win the title in Miami, winning in 2007 at 19 years and 316 days. The youngest woman to win the event was Monica Seles (in 1990, at age 16 years, 111 days).
Novak played the longest US Open final, 4 hrs and 54 minutes against Andy Murray in 2012 (equals 1988 final between Wilander and Lendl).
On a non-tennis note, Nole eats only gluten-free food.
Courtesy: novakdjokovic.com