2014 F1 Japanese Grand Prix:- Race Preview
Published 10/02/2014, 3:02 AM EDT
By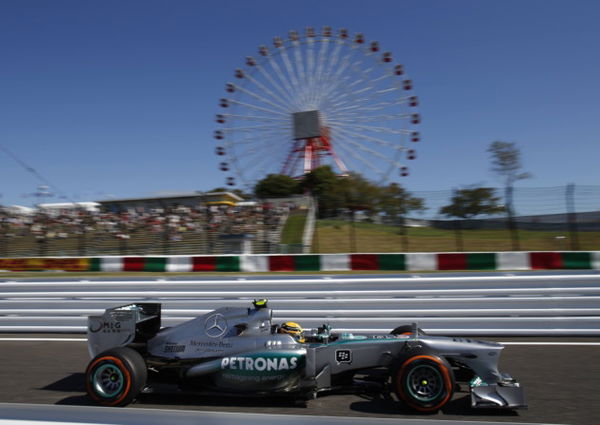 Formula 1 is again back this weekend with the 2014 Japanese Grand Prix that is held in Suzuka every year. This old Japanese circuit held its first race in 1987.  Ahead of the racing weekend we  present the key facts and stats….
ADVERTISEMENT
Article continues below this ad
Circuit: Suzuka
Circuit length: 5.807 km
ADVERTISEMENT
Article continues below this ad
Number of corners: 18 (9 right, 9 left)
DRS zones: 1
Race laps: 53
Race distance: 307.471 km
2014 tyre compounds: medium, hard
Circuit lap record: 1m 31.540s – Kimi Raikkonen, McLaren, 2005
ADVERTISEMENT
Article continues below this ad
Hamilton, because of his win in Singapore, is 3 points ahead of  teammate  rival Rosberg in the championship table. This weekend Hamilton will be looking forward to extend his lead by winning at Suzuka but at the same time due to a retirement at Singapore plus loosing the lead in the championship, Rosberg will be extremely hungry for taking the pole and winning the Grand Prix.
Agreed that the Mercs have a lot of pace more than every other car on the track but there are two factors that can stop Hamilton and Rosberg to win the race….
1)TEAM RIVALRY : Both Hamilton and Rosberg are extremely competitive and want to win the championship , but this eagerness can be harmful for the drivers as they might just crash into each other, like in SPA,  which may lead to none of them completing a race and thus paving the path of championship for Red Bulls Daniel Riccardo as he is not that far behind in the championship.
ADVERTISEMENT
Article continues below this ad
2)WET RACE:- It has been forecast to rain for the entire weekend at Suzuka, so the question arises whether the Mercedes can maintain their pace in the wet conditions or not. If not, then this race might just be a total game changer.
This Grand Prix like its predecessors will be extremely packed with pace, overtakes ,crashes, spins and of course thrill. So lets see what Suzuka has in store for us.