2015 has been a special year for Australian Cricket and once again largely due to a left-handed opener. Barring a blip in the Ashes in England, Australia have returned to winning ways in almost every form of the game and are close to showing the utter dominance that they are known for. David Warner has been in the thick of things in this regard. Starting off the calendar with a belligerent 103 of 114 deliveries against India at the SCG, the 'pocket sized dynamite' has never looked back.
"At first I looked and thought this is potential but it's just going to be poured down the drain.But I don't think that at all now. I think it's world class. It's tight, it's solid, it's disciplined, it's full of life, it's got great vision – it's the complete package and it's a joy to watch." quoted Matthew Hayden, in a perfect reflection of Warner's incredible last 12 months. Here's a look at some of the phenomenal feats that the New South Wales man has achieved.
5. Quicker than his Predecessor.
Warner's test career may have begun in 2011, but the swashbuckling opener's form and confidence were on a dip through successive  seasons leading into the 2013 Ashes in England. Warner hit a low point of his short career then after landing a punch on  England's Joe Root in a night club. Being hit with disciplinary issues time and again wasn't new to Warner but few predicted the extraordinary turnaround that would follow. With as many as 12 hundreds since that infamous incident, in just 27 tests, Warner has been in the form of his life entering into a prolific 2015. With 4241 runs before the start of the West Indies series at home, Warner has breached the 4000 run barrier mark in quicker time than former Aussie great Matthew Hayden himself. Warner achieved this feat in 46 test matches, one less than Hayden's 47.
4. Piling it on against the Trans-Tasman Neighbors.
Warner continued his brilliant run of form and reached a phenomenal peak in the home series against New Zealand. His scores in the three tests (six innings) read 163 , 116,  253 , 24 ,1 , 35. Scoring 592 runs at a staggering average rate of 98.66, his first double hundred at WACA in Perth was the height of his purple patch. Only Graham Gooch (752 runs at 125.33) against India, and Brain Lara (688 runs at 114.66) against Sri Lanka have scored more runs in a three match test series. Warner joins these greats after his piling up 592 runs in the Trans Tasman battle. Warner however blew his opportunity to better this by posting relatively poor scores of 1 and 35  in the Day Night Test at the Adelaide Oval, which Australia narrowly won.
3. In Elite League.
The Trans Tasman series was Warner's giant leap in his international career. In the first test at the Gabba, Warner scored  match winning centuries in each innings (163, 116) to take his tally of scoring 'a century in each innings' of a test match to a total of three. This brought him in line with greats like Sunil Gavaskar and his former Aussie skipper Ricky Ponting, who were the only other players to achieve this incredible feat. Warner previously scored a century in each innings against South Africa(135 , 145) in Newlands, Cape Town in March 2014 and against India (145 , 102) at the Adelaide Oval in December 2014.
2. Pure Entertainer.
David Warner play-style isn't dissimilar to a Gayle's or a Sehwag's. Dismantling bowling attacks was something Warner was known for since he burst onto the international scene, playing in that manner in his scintillating 89 at the against South Africa. The second of the recently concluded Trans Tasman series saw Warner slam an unbeaten double hundred (244) on the first day of the Test match, his first in test cricket, as he tore into the Kiwi bowling attack at the WACA in Perth,his double hundred coming off just 236 deliveries. In the process Warner became only the first Aussie opener to score a double hundred since Justin Langer in 2004, with only Sir Don Bradman scoring more runs on day one of a test match.
1. On the road to glory.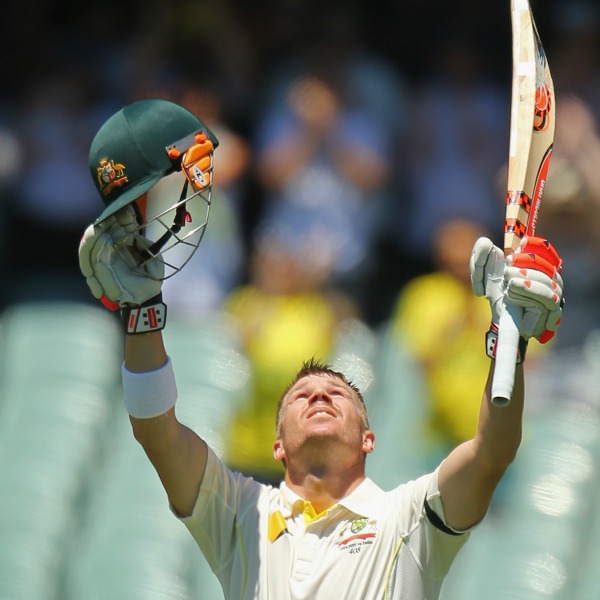 David Warner's phenomenal 2015 bears testimony to hard work and also character, after the opener's earlier problems with disciplinary issues and Australia's moderate blip in test cricket during the 2011-13 period. However Warner's turnaround came in the 2013 Ashes at home, where he time and again put the English attack to the sword, notching up 523 runs in the 10 innings at 58.11, including two hundreds and fifties a piece. He carried his rich vein of form and confidence to South Africa, the World cup, the 2015 Ashes in England and the home series against New Zealand; through all of this Warner has scored three straight Test centuries on two occasions in the past 20 months – a phenomenal accomplishment. Following this more than remarkable turnaround in his career,it is hardly a surprise that Warner now stands at the cusp of glory. He is indeed treading the path of the greats given his record, age and also his sky high confidence. At exactly this point of his career, Warner has 15 centuries from 45 Tests. Only Don Bradman (26), Sunil Gavaskar (19) and Herb Sutcliffe (16) had more aged the same. All these only go on to prove the impact of Warner's recent purple patch in his career. It could be looked at in another way; the impact of Warner on cricket in 2015.