Is 2015 the year for South Africa?
Published 01/24/2015, 8:11 AM EST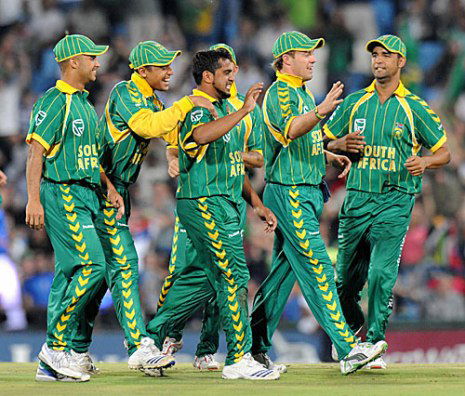 ---
---
Chokers.
ADVERTISEMENT
Article continues below this ad
That's what South Africa is called while playing in the World Cup. Be it out of bad luck or high pressure, South Africa despite being one of the favourites for winning the World Cup in the last 4 or 5 editions have never been even able to reach the finals.
Whenever South Africa lost a match, it was due to the failure of their batting line up. Never did they lose a match because their bowlers conceded a lot of runs. In the 2007 World Cup, they reached the semis after some disappointing performances in the Super Eights and ultimately then lost to Australia having set a mere target of 150 which the opposition managed to make with 111 balls left. Move four years ahead to the 2011 World Cup and they faced the same issue. Before the QFs, they had lost just a single match against England and they had won most of the matches by quite a good margin with complete dominance. Both their batting and bowling were going well and strong and they seemed very close to burying the "chokers" tag. In the QF match against New Zealand, they couldn't successfully achieve a small target of 221 runs and the batting line up consisting of Smith, Kallis, Amla, De Villiers to name a few got out at 172 runs thus ensuring that they went out of the World Cup wearing the same "chokers" tag.
ADVERTISEMENT
Article continues below this ad
2015 might just be the year for South Africa.
This year, they've managed to fix the one thing that's always disturbed hem-batting line up.
From a period of 2011-2015, three players – Hashim Amla, AB de Villiers, Faf du Plessis have managed to shatter record after record ensuring South Africa reached new heights. With the departure of Graeme Smith and Kallis, these three share the responsibility what previously was held by these two. To speak of their greatness, let's get some facts in betweeen:
Hashim Amla is currently World No.3 in Tests and ODIs according to ICC rankings, and has broken so many records.  He holds the record for the fastest person to score 2000, 3000, 4000 and 5000 runs in ODIs along with the fastest person to get to 10, 15, 16, 17 and 18 centuries in ODIs. In 2013, for the first time after Ricky Ponting he held the No.1 position in both tests and ODIs according to ICC rankings. He has now scored ODI centuries against all test playing nations. Also  dubbed the 'Run Machine',  he has a total of 11 centuries since 2011 in Tests including a career best figure of 311* and a score of 208. He also has 10 centuries since 2011 in ODIs including two 150s. Where on one side he plays aggressively during the ODIs taking calculated risks, he does know how to stabilise an innings and stay at the crease and score big in Tests. Switching from one cricket form to another is no big task for him. He opens in ODIs and has done well till now as an opener. Getting him out before he gets going is tough for any  team. He can easily stick till the end and trouble every bowler. A perfectionist of technique and skill, he doesn't throw away his wicket easily and the bowling opposition must always find a way in to break into his defence and get him out. They must not allow him to get comfortable at the crease.
ADVERTISEMENT
Article continues below this ad
Former England captain Geoffrey Boycott once said, referring to Amla, "he bats in a way that gives very little hope for the bowlers" and "he plays the same way at the start of his innings as he does at the end of it".
AB de Villiers, currently World No. 2 in Tests and World No. 1 in ODIs, the captain of the team in the two formats has been a kind of an ex-factor for South Africa. Also called 'Mr. 360' for  his ability to play shots in every direction of the stadium, he holds the record for the fastest 50 (off 16 balls) and fastest 100 (off 31 balls) and also the most number of sixes (16), all of which he achieved in the recent ODI against West Indies. He has the record for the fastest person to get 7000 runs in ODIs. In the 2011 World Cup, he scored two consecutive centuries – first for a South African and won three Man of the Match awards. He also holds the record for the most number of ducks (4) in a World Cup. Be it trying to save the match in Tests, scoring 43 off 228 deliveries spanning somewhere around 326 minutes against Australia, March 2014 or a 220-ball 33 in 2013 to save the match against Australia again in Oval, and then in 2015 scoring the fastest century in ODIs, he is a perfect master of his game and plays as and what the situation of the game requires. Bowling to him is always guess work due to his heavy movement across the crease, lack of a fixed stance and tendency to play one or few cheeky shots. Usually coming second down, if any team wants to do  well against them, they must get de Villiers out before he sets his foot on the crease for long. He hits one or few boundaries, gains his confidence, he will take the game away from the opposition single handed. The only problem to this would be deciding what line and length to bowl to him or which fielding position to set considering the genius that he is.
The current T20 captain for South Africa – Faf du Plessis made his ODI debut in 2011 and Tests debut in 2012 and has impressed ever since then.  In his Test debut against Australia, he managed to score 78 runs in the first innings and in the second innings a marathon 376-ball 110* spanning over 466 minutes.  He has 4 Tests centuries and 3 ODI centuries most of which were at crucial stages and helped his side in either drawing the match or winning it. After his maiden ODI century on August, 2014, he followed it with two more consecutive centuries and fell four runs short of being the first batsmen ever to score four consecutive ODI centuries. He was dismissed for duck for the first time in 2014 after a record 99 matches which proves his ability to stand tall at the crease for long. Initially brought into the team as a No.6 batsman, he now bats at No.3 usually, in both tests and ODIs, a position that was held strongly by Kallis for long. He has the ability to play for long, stay at the crease, establish partnerships and not throw away his wicket easily. He is tough nut to crack usually. He has had some big partnerships with both AB de Villiers and Hashim Amla which further is a point worry for every opposition.
ADVERTISEMENT
Article continues below this ad
Edited by Priyanshi Gupta