2016-Top Moments in Football
Published 12/24/2016, 2:27 AM EST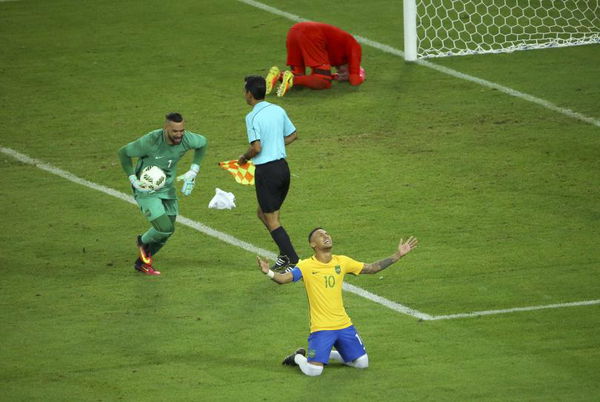 ---
---
2016, What an year it has been. This year has been a witness to many ups and downs in the field of football. 2016 will always be remembered as the year of many highs and lows.
ADVERTISEMENT
Article continues below this ad
With Leicester City F.C. winning the premier league, Real winning the champions league and many more triumphs, 2016 has been one of the best year for spirits in football. So today, we at essentially sports countdown the year with few of the top moments in Football.
ADVERTISEMENT
Article continues below this ad
The Golden Boy wins Gold for the Hosts
It was a huge moment for the entire nation. After many accusations over their ability to host such an event, Brazil had to win this gold. After the full 90 minutes, it came down to the spot kicks. Neymar made sure that his side won the gold and made history with their much awaited Olympic Gold.
Ronaldo wins his 4th Balon D'or
After winning the Champions league, European Super Cup with Madrid and The EURO '16 with his national side, in an interview, Ronaldo quoted:
"For me it's a great honor to receive my fourth golden ball,"
"I never thought in my mind to win four times, so I'm so pleased, I'm so happy. I have to thank all my teammates, the national team, Real Madrid, all the people, all the players who helped me win this individual award."
Portugal win Euro 2016
Portugal struggled in the group stage and managed to qualify to the knock-out stage as third in the group. In the knock-out stage too they never won a match in the 90 minutes, but somehow luck favored them. They were underdogs throughout the tournament but emerged victorious at the end.
But It was Wales and Iceland who won Our Hearts.
It was Wales and Iceland who reached the semifinals and quarterfinals respectively, who really captured the imagination of the Euro 2016 fans. They showed great resilience throughout the competition. Iceland's victory over England will definitely be remembered and cherished.
Iceland's followers entertained everyone with their unique "Viking Thunder -Clap" celebration.
Messi's Retirement From International Football
ADVERTISEMENT
Article continues below this ad
Leicester: The Fairy Tale
Leicester City somehow held off the best talent that richer clubs with worldwide followings could deploy, becoming the unlikeliest and most endearing Premier League champion in the history of the sport. This was a club that had avoided relegation the previous season only with a very late surge. But after signing the Italian manager Claudio Ranieri, Leicester City overcame preseason odds that were 5,000 to 1 and won the title.
ADVERTISEMENT
Article continues below this ad
All in all, 2016 has been an incredible and significant year for football. We hope to see more of the same in 2017.
Until then Merry Christmas and a Happy New Year.!