2018 FIFA World Cup: Mexico Stun 2014 Champions
Published 06/17/2018, 1:15 PM EDT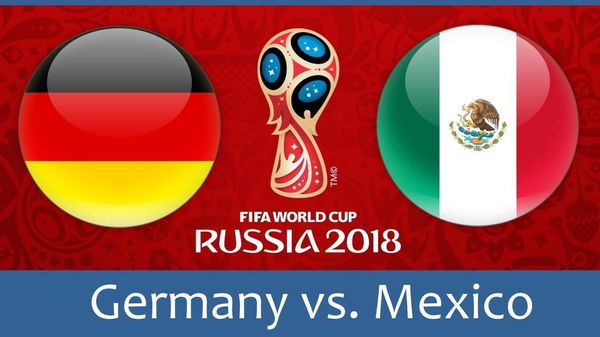 Defending champions Germany slumped to a shocking defeat in their 2018 FIFA World Cup clash with Mexico. The side refused to be intimidated by the fact that they were up against the champions. It paid off and they came away with a 1-0 win.
Die Mannschaft's form was a little shaky in qualifying, but experience and records were on their side. So far, they had won every opening game at major tournaments since Joachim Low took over as coach in 2006.
However, Mexico decided to change that dynamic. They managed to hold their own against the favourites. Things were a bit unsteady as they wasted a handful of first-half chances while flirting with danger in their own half. Finally, Hirving Lozano's 35th-minute strike proved to be just the ticket.
German centre back Mats Hummels lost possession deep in the Mexican half, Javier Hernandez was released. Outpacing Jerome Boateng, his pass found Lozano, who controlled the ball. Lozano cut inside Mesut Ozil, held off a charging Toni Kroos and slotted coolly past Manuel Neuer.
Meanwhile, Guillermo Ochoa tipped a blistering Kroos free kick on to the bar, in what was the Germans' closest effort so far in the 2018 FIFA World Cup.
Germany pressed in the second half but struggled to find the target. Osorio beefed up his defence, pulling off Lozano with a quarter of an hour left. 39-year-old Rafael Marquez was sent in at the back to become the third man ever to play in five World Cups.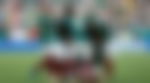 Mexico had much of the 80,000 crowd in Luzhniki Stadium on its feet as the German defence was exposed.
Youngster Julian Brandt nearly saved Germany the blushes after taking over from Timo Werner in the final minutes. Unfortunately, his shot blasted past Ochoa's right post and just off target. Thing were so desperate that even goalkeeper Neuer came up for a corner in injury time.
Mexico can dream of going better than a consistent record of reaching the last 16 of the last six World Cups and perhaps of improving on the quarter-final they last reached in 1986.
Here is how Twitter reacted to the match.
https://twitter.com/RogMort/status/1008483558007164932
https://twitter.com/FoootballPlanet/status/1008401725949136896
https://twitter.com/dannyramirez/status/1008377175836250113
https://twitter.com/ikjvm_/status/1008483692107436035
https://twitter.com/SotirisNteris/status/1008485501525995520
https://twitter.com/jonty_spitfire/status/1008487719855509506
https://twitter.com/Kin9_DERP/status/1008487236537606144