5 of the best overtakes of the 2015 F1 season
Published 12/21/2015, 12:30 PM EST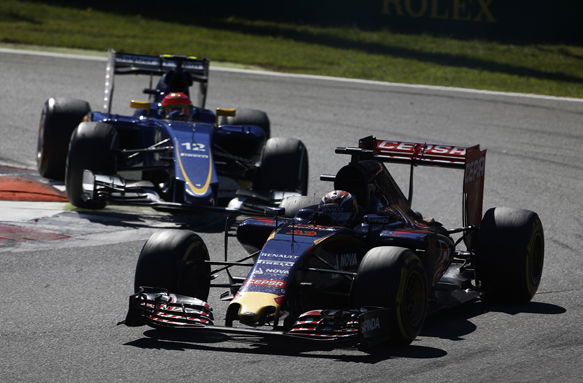 ---
---
Overtaking is an art and one which even makes Mona Lisa scream, "God that was close!". It's  a major part of the sporting side of Formula One. It separates the very good from the good and the world champions from the 20 odd inhumans out on the track.
ADVERTISEMENT
Article continues below this ad
The 2015 season saw a 10% decrease in the number of overtakes than the already short on overtakes 2014. The two Torro Rosso young guns provided about 1/5 of the total overtakes this year with Verstappen claiming 49 legit moves and Sainz with 45.
So it shouldn't come as a surprise that the name Verstappen appears more often than not on this list we at ES have compiled for the best overtakes of the season.
ADVERTISEMENT
Article continues below this ad
5.   Felipe Massa on Marcus Ericcson (Canada)"
https://www.youtube.com/watch?v=4Bs-QxCNh40
Felipe Massa has been on a revival and a soul searching journey after his stint at Ferrari and he's apparently found his old self back at Williams F1. The move at Canada was not as clean as it could be but, boy was that what racing is about, it's about fighting for your space, wheel banging and being on the line between fair and ruthless. The move was a classic, outside first, on the inside on the next and probably would have not been possible had Ericcson pushed Massa off the line and compromised Massa's entry to the right hander. Massa took the opportunity and boy did he impress us.
4. Max Verstappen on Sergio Perez (Brazil)
Senna S, named after the legendary Ayrton Senna; an appropriate name for the one of the most challenging corners on the track at Interlagos.  It's starting to become a Verstappen signature, the move on the outside. Perez and Max on the limit. This was as close two formula one cars can get without it being called "car sex".  Where were you when you were 18 years old? That's right, certainly not balancing a throttle pedal so perfectly on the outside of a Mexican. No words to describe this move, just watch and don't forget to hold your breath.
3. Daniel Ricciardo on Lewis Hamilton (Austin) and Nico Rosberg on Lewis Hamilton (Austin)
Hamilton was struggling with his overheating intermediate tyres probably due to the drying track and lost the lead to Ricciardo with what was a phenomenal overtake by the Honey Badger.  Turns 16, 17, 18 are somewhat related to the famous four apex Turn 8 at the Istanbul circuit. So, overtaking there, with intermediates, on a freakishly mystic dry/wet track, and with your tail wiggling about like it is twerking, that's ballsy. Mr. Ricciardo would definitely have been smiling inside his helmet after that move.
While that was embarrassing enough for Lewis, little did he know that Rosberg was planning something sinister behind all this. Rosberg had kept his tyres in better shape and was on the prowl. He got close to Lewis, got the DRS, went alongside on the inside on the back straight. Lewis probably struggling under braking, slowed down quite a bit, leaving Rosberg to brake on the limit so as to seal the move. Rosberg ran a bit wide on the exit and Hamilton executed the classic switchback on the exit, got a much better exit due to his line and the benefit of longitudinal acceleration which helped his traction, almost passed Rosberg back, but Rosberg was being clever, kept his inside line for the slow right hander slightly pushing Hamilton wide and sealing the deal. Good Move, Britney!
2. Max Verstappen on Maldonado and Bottas (Monaco)
Again, this guy is just an absolute genius when it comes to passing. The way he plans and executes these moves, it's just textbook karting and reminiscent of a young Senna or Schumacher.
Monaco is already a lady that's hard to woo and conquer and Max being the teenager surely has something else up his sleeve that the adults don't.  That move at St. Devote on Pastor, is as close as you can get when passing someone at Monaco without damaging your cars.  He broke late, saw the gap, and placed an enormous amount of trust in Pastor and just stepped on the gas and off he went.
While the move on Maldonado showed his control of the 850 horses behind his back, the move on Bottas showed how mature and how clever this fellow is. He actually uses Sebastian's Ferrari as a distraction to just sneak through.  Blue flags and back marker cars have always been a controversial topic in Formula One, so Max knew Bottas had to go slow to let Sebastian through and Max seized the moment, got right at the gearbox of Sebastian as he had already been lapped, and when Sebastian got through, so did Verstappen, catching Bottas napping and probably wondering if he should have been looking in his mirrors more.
ADVERTISEMENT
Article continues below this ad
Max Verstappen on Felipe Nasr (Belgium)
Formula One : Because every other sport requires "one" ball. And boy did Max put truth to that quote here. Around the outside of Blanchimont, one of the fastest corners on the calendar, displaying the perfect amount of aggression and control and his innate sense of awareness while executing this beauty. He set this move up before, got a great exit at the Stavelot right hander and then just slipstreamed until he realized he had to back off so as not to run into Nasr OR go on the outside and just hold his breath. He seized the opportunity, went on the outside, due respect to Nasr for being as fair as he could be. Nonetheless Max ran a bit wide at the exit which made him lose a bit of the momentum he had gained, but crucially he was on the inside for the Bus Stop chicane, broke a bit earlier than he would have like but from there on it was a classic Spa overtake at the Bus Stop.
It was later revealed that he had in fact practised this exact same maneuver in a Video Game.  Makes you wonder if Pastor played Demolition Derby.
ADVERTISEMENT
Article continues below this ad
Jokes aside, that was the move of the year for us.