From Giant Zanjeer to Jeet Rama, Five Superstars to Watch Out From WWE Superstar Spectacle 2021
Published 01/27/2021, 1:45 AM EST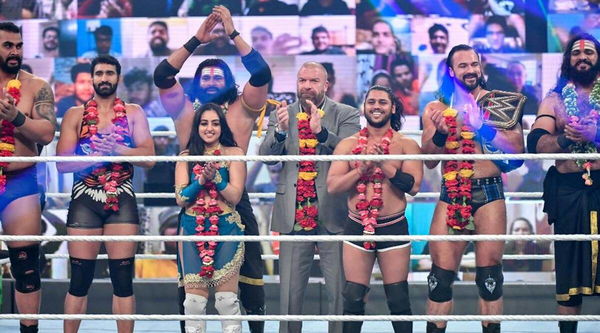 ---
---
WWE Superstar Spectacle is in the books, and the superstars representing Continental Wrestling Entertainment knocked it out of the park. Every member of The Great Khali owned wrestling academy put on a 'spectacle' which made wrestling fans in India hopeful. Hopeful of an Indian Performance Center, and of similar shows like this.
ADVERTISEMENT
Article continues below this ad
The Superstar Spectacle special had a ton of breakout performances, and some that were quite outstanding. From a formidable tag team in NXT, to a giant that could be the next Khali, these are the superstars to watch out for after Superstar Spectacle.
Guru Raaj impresses against the NXT Champion
ADVERTISEMENT
Article continues below this ad
High-flyer Guru Raaj faced the NXT Champion Finn Balor in the opening match of the show. He and Balor wrestled a decent match that went a little over seven minutes. Despite the Prince's dominance, Raaj looked like he belonged in the ring with one of the best.
Raaj is only one year into his wrestling career, and his limited experience warranted the limited offense he inflicted. He pulled off an impressive drop-kick and a decent crossbody, before a Coup de grâce and the 1916 finished the job.
Indus Sher could win NXT gold
Previously managed by Malcolm Bivens, Indus Sher debuted in NXT and looked unstoppable. It is strange to not see them in the Dusty Rhodes Classic, but it was wonderful seeing them team up with Drew McIntyre in the night's main event.
The team did not look like the WWE Champion overshadowed them at all. In fact, the Bollywood Boys bumped like maniacs for them, all in the bid to get them over. They even kept former WWE Champion Jinder Mahal at bay. After this win, expect Indus Sher to be pushed as a top team in NXT.
Sareena Sandhu and the Queen win at WWE Superstar Spectacle
Charlotte Flair and CWE star Sareena Sandhu faced Natalya and Bayley in the only women's division match of the show. Flair did most of the heavy lifting in this match, but Sandhu also got in a fair amount of offense. She pulled off a crossbody from the top rope the second Flair tagged her into the match.
Michael Cole was quick to point out that the same person trained Sareena and Bayley. Whether this is true or only a plot device is unclear, but it added a snap to the exchanges between Sareena and the former SmackDown Women's Champion. Sandhu got the winning pinfall after Charlotte broke the Sharpshooter with Natural Selection.
Giant Zanjeer dominates six-man tag team match at WWE Superstar Spectacle
The most imposing figure during the entire show was a seven-foot two giant named Giant Zanjeer. He teamed up with Ricochet, Rey Mysterio, and another CWE giant Dilsher Shanky. The team of giants and cruiserweights beat the team of Shinsuke Nakamura, Cesaro, Dolph Ziggler, and Baron Corbin.
Shanky must've gotten in more offense, but Zanjeer seemed so much more terrifying than him. He dwarfed Cesaro and even Corbin, chopping their chest with the force of a bat hitting the ball. His athletic background gave him the advantage to wrestle and boost his movement, but with a fair bit of training, he can become an unstoppable monster in WWE.
Jeet Rama transforms the WWE Superstar Spectacle into Suplex City
ADVERTISEMENT
Article continues below this ad
Kurt Angle would've been immensely proud of Jeet Rama. The Indian star has been training at the Performance Center for five years and had his first televised match in 2021 against AJ Styles. He and Styles put on an excellent match that was just under ten minutes and saw both men pull out some startling moves.
A German suplex followed an impressive head and arm suplex, and if the avalanche belly-to-belly suplex connected, AJ Styles would've been out. Fortunately for AJ, Omos was wary of the risks of taking the move, and grabbed onto Styles' foot while Rama went flying. Requiring Omos' help to overcome Rama maintained Styles' heel profile and got Jeet Rama over.
After the show, Triple H came out and talked about an Indian Performance Center and the start of an NXT India. If this happens, expect the aforementioned stars to be the top faces of the brand, and the future stars of WWE.
ADVERTISEMENT
Article continues below this ad