Adios El Clasico?
Published 10/25/2014, 6:05 AM EDT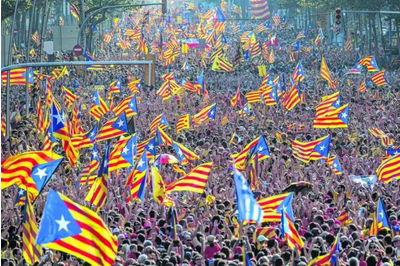 ---
---
'El Clasico' is undoubtedly one of the biggest and most watched rivalries of world football. With high profile signings on both teams, almost every match promises to be a wonderful treat for their fans. But with recent calls for a Catalan referendum, the future of the rivalry remains at stake.
Catalonia is an autonomous community of Spain having four provinces with Barcelona as its capital. Recently, protests have grown in Spain with the citizens of Catalonia( Catalans) wanting a separate nation for their region. Numerous unofficial referendums took place starting from 2009 and many protests turned violent. A referendum for Catalonia's independence was planned for November 9 but its future remains uncertain as it was rejected by the Spanish Government and the "popular consultation" was suspended by the Constitutional Court of Spain. Instead of a competitive national team, FC Barcelona  has become a part of  Catalonia's unarmed army internationally. The successes of the club were celebrated as Catalonia's success. To make their support clear for the international audience, banners showing "Catalonia is not Spain" were put up by their supporters. Even one can see that the entire Camp Nou will be filled with orange and yellow Catalonia flags. The clubs as well as the players are supportive of a new Catalonia nation. Barcelona said in a statement on their official website: "FC Barcelona have signed the Catalan National Pact for Self -Determination. The club formalised their adhesion in a formal letter from president Josep Maria Bartomeu to the Pact co-ordinator Joan Rigol" .
Some of the clubs main players such as Pique joined a march last month to promote independence. The central defender of FC Barcelona caused a stir in Spain when he tweeted a photograph last month in which he  was hunched down behind his 20-month-old son, Milan who was wearing Barca's away strip, which is modelled on the Senyera, the yellow-and-red-striped colors of the Catalan national flag. Xavi Hernandez, the club's main playmaker, also came out in support for the referendum. Hence with both players as well as their fans supporting for a separate nation questions were raised on whether the club will remain in Laliga if a new state was formed. Some believed thatjust like Monaco in Ligue1, as well as Swansea City and Cardiff City in England's Premier League, the Catalan club too will be included in LaLiga. But Javier Tebas president of Spanish football league came up with this statement: "Barcelona wouldn't be allowed to play. There would have to be a change made in the law in the Spanish parliament". Hence the club would have to play probably in a newly created league for Catalonia. The club will suffer from getting good competition as there are very weak clubs from this region other than Barcelona. Further, "El Clasico" won't happen frequently and the fans would have to wait for a Champons league fixture between the two clubs. This lack of competition can affect the club as well as the Spanish league. The Spanish football team too can have a great problem because of the separation as Catalan players were an integral part of their team. Spanish manager, Vicente del Bosque announced a while back that he couldn't imagine a Spanish side without Catalan players in it.
As the El clasico kicks off today the entire world will be looking forward to the rivalry o as well as off the field. The amount of protests have been growing over the past few months a win for the Catalan club will act as a much needed trigger for those protests. As therie new signing Luis Suarez stats for the club today, will we see him biting the Catalan nation out of Spain this time? Let's wait and see!