EXCLUSIVE: "I'm Going to Rebel" – Impact World Champion Rich Swann Sends a Message to Kenny Omega Ahead of the Historic Match at Rebellion
Published 04/20/2021, 11:44 AM EDT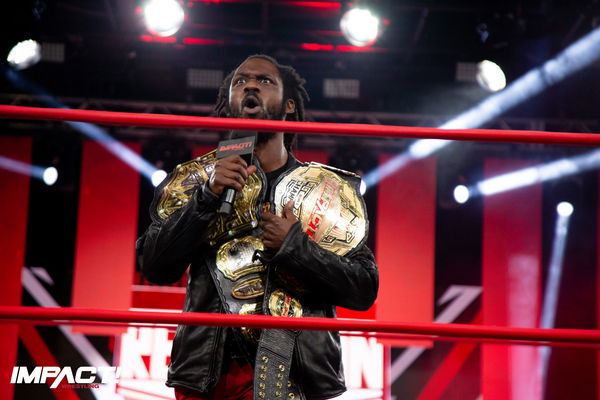 ---
---
Professional wrestling hasn't been the same since the Forbidden Door was announced to be wide open. Now that it is, we're getting a once in a lifetime, title versus title match between two World Champions, from two different promotions, on PPV! Yes, we're talking about Rich Swann versus Kenny Omega at Rebellion!
ADVERTISEMENT
Article continues below this ad
Omega has trash-talked a lot ahead of this match. He is calling himself the 'Belt Collector.' He has bent the rules since winning the AEW World Championship and has his eyes set on the Impact World Championship, but Rich Swann is all set to defend his throne.
ADVERTISEMENT
Article continues below this ad
Rich Swann is ready for Kenny Omega
We recently had the honor to ask some exclusive questions to the Impact World Champion Rich Swann during a media call. During the call, we asked Rich if he has any message for the AEW World Champion, Kenny Omega ahead of this match. Rich did have a message, and it was a strong one.
Swann said, "My message to Kenny Omega at Rebellion – I'm going to rebel. I'm going to rebel against your arrogance. I'm going to rebel against your ego. I'm going to rebel against this club, this 'Bullet Club.' I've got all of the fire. And I'm ready!"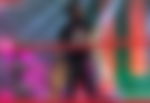 The feud between Rich Swann and Kenny Omega isn't just about two World Champions. It has become personal. Omega has attacked Swann verbally and physically heading in. But from what we've learnt from Rich Swann's past triumphs, no one should think they're prepared for him.
Take Brian Cage, for example. Despite having the advantage in a lot of areas, Swann overcame the hardship and defeated 'The Machine' to win the X-Division Championship.
So, Kenny might have a weight advantage and some more wrestling experience, but Rich Swann's passion, determination, and effort are definitely something he hasn't seen before.
Swann shares how he's preparing for the Title vs Title match at Rebellion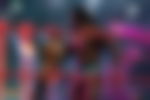 Swann is taking no days off preparing for this match. During the interview, he also talked about his preparations for this mega-match against 'The Best Bout Machine.' Swann revealed he has been watching a lot of tape, studying a lot on Kenny Omega, and giving his all preparing for this match.
"I've just been training everyday. Just working my butt off just because I know how important this match is. Like you said, it's unprecedented. It's something that never happens. Two World Champions, from two different companies, that represent two different TV stations are going head-to-head, nose-to-nose, gold to gold, on PPV. I'm in here to make history. I'm ready!"
Rich Swann looks completely set to bring Kenny Omega down from the hill of illusion. Kenny is undoubtedly the best wrestler on the planet, but over-confidence is always dangerous.
We've seen Swann slay bigger men, faster men, and more experienced men before. So, Omega should not take him lightly. April 25th will be historic! Which side are you on?
ADVERTISEMENT
Article continues below this ad
Impact Rebellion is live on Pay-Per-View this weekend, on April 25, where history will be made. So, don't miss it!
Catch all the action from Impact Plus in India only on Eurosport and Eurosport HD. You can also stream on Discovery+.
If you take any quotes from this article, please H/t to EssentiallySports.com, with a link back to this article.
ADVERTISEMENT
Article continues below this ad