AEW Legit Handed Out CM PUNK Ice Cream Bars After Rampage Went Off Air!
Published 08/21/2021, 8:01 AM EDT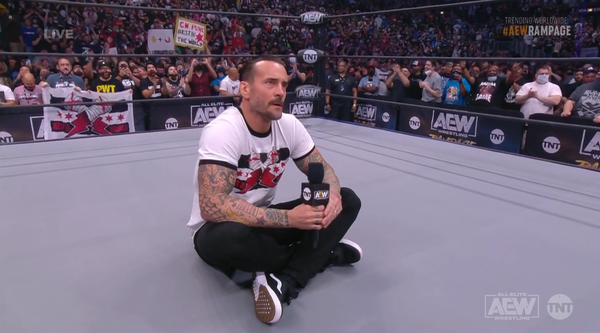 ---
---
CM Punk is trending all over the internet today. Few short hours after the "First Dance" AEW Rampage got over, Punk is all over Twitter. He has 5 hashtag's trending related to him in the top 25 hashtags. To say he got meaningful results would be an understatement. CM Punk has always ruffled feathers wherever he has gone, whatever he has dipped his feet in.
ADVERTISEMENT
Article continues below this ad
When he returned to the Wrestling ring after 7 years and got a deafening pop. He had a few more surprises up his sleeve. The Cult of personality made sure that it wasn't only his comeback that made the fans happy.
He dived into the crowd; he interacted with them only like he could. Sounds like a perfect meal, right? Well, no meal is ever complete without a Sweet at the end. Punk made something happen that is probably even harder than him coming back.
ADVERTISEMENT
Article continues below this ad
CM PUNK Got his Ice Cream Bars
ADVERTISEMENT
Article continues below this ad
During the unforgettable Summer of Punk, CM Punk had many a memorable feud. He fought superstars after superstars, each feud better than the last one. However, one of the most memorable moments till today is his negotiation with Vince McMahon. Punk talked to Vince about adding stipulations to his match. While it infuriated Vince, he knew he couldn't do much.
As he noted out his stipulations, a peculiar stipulation was demanding Ice cream sticks in the name of Punk. Feuds and years went by and this became a thought many fans kept in their mind. Will we ever see CM Punk Ice cream bars? The world got the answer on the  20th of August,2021. As every fan who attended the event left the stadium with an Ice cream bar from CM Punk.
Why the Ice Cream Bars though?
ADVERTISEMENT
Article continues below this ad
As CM Punk sat down for a media scrum with Tony Khan after the show. Punk explains that this was his way of giving back to the fans. He also added that this was a home run of sorts in giving the fans what they want, which a few companies don't do. We wonder who is he talking about. The fans at the stadium and fans at home were happy. They know this is fresh and opens a gateway for AEW to rise up the ranks.