"There's More To Come"- AEW CEO Tony Khan Defends Himself Against Online Trolls After Dynamite
Published 11/12/2020, 10:20 PM EST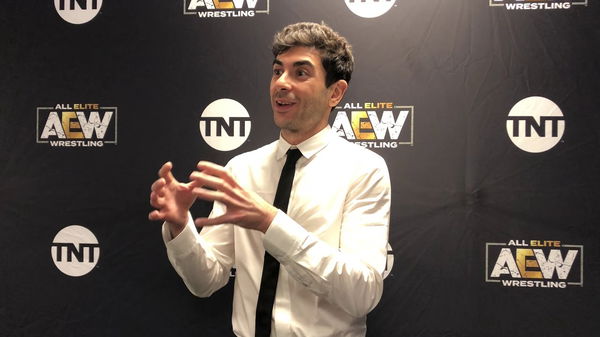 AEW CEO Tony Khan was trolled by the wrestling fanbase after he over-hyped the main event of Dynamite. He walked out to the stage and promised fans something huge if they stuck around till the main event. He even sent out a tweet announcing a potential power shift in AEW.
ADVERTISEMENT
Article continues below this ad
Tony Khan posted a tweet about a 'power shift' in AEW
Tonight we have a great lineup for #AEWDynamite Live on TNT at 8pm ET/7pm CT! For the rest of 2020, #AEW will keep delivering great matches on Wednesday Nights + there are massive surprises ahead! Please join us on TNT tonight, the balance of power in wrestling will shift tonight

— Tony Khan (@TonyKhan) November 11, 2020
ADVERTISEMENT
Article continues below this ad
The story Khan was building to was the return of PAC. The British wrestler made his return to American soil after seven months. The return was a huge deal for the company; however, it was an underwhelming surprise to the fans.
PWInsider.com reached out to Tony, to question him about the backlash he received. Khan defended his statement by saying, "There's more to come, Pac coming back is the beginning of a huge push for the rest of the year, as I said in my last tweet just now."
Thank you everyone who watched #AEWDynamite tonight! It's great to get Pac back in AEW! We've made some big announcements & huge matches for next week & for weeks to come into December. Tonight opened a new chapter, I promise indelible moments on Dynamite are still coming in 2020

— Tony Khan (@TonyKhan) November 12, 2020
"Balance of power in storyline refers to Eddie [Kingston]'s strong power base as a character which could be threatened, but it also refers to the big push AEW is making for the rest of the year into and through December and into 2021," said Tony.
PAC made his return to AEW after months
PAC returned to Dynamite after the blistering Pentagon Jr vs Rey Fenix match. Eddie Kingston was at commentary for the match, and looked to admonish Fenix from his stable, before PAC's music hit and he marched down to the ring to confront Eddie.
Referees had to come out to separate the two furious men. This could lead to a huge match between the two down the road. Kingston has enjoyed an incredible stint with AEW so far, facing Cody Rhodes and Jon Moxley in excellent matches.
Tony Khan is one of wrestling's biggest entities
ADVERTISEMENT
Article continues below this ad
Tony Khan has become a pop culture icon and the main competitor to Vince McMahon. AEW has been structured as an alternative to the biggest wrestling company in the world. He is at the heart of AEW and is the lead booker along with the Elite.
ADVERTISEMENT
Article continues below this ad
The ire drawn by his tweet was surprising to say the least. Fans drew comparisons between him and former TNA booker Dixie Carter. Carter nearly drove TNA into the ground, before it was rescued by turning into Impact Wrestling.
The underwhelming angle is eerily reminiscent of WWE angles, which is totally not what fans were expecting. We hope AEW stays far away from jumping the gun and stays true to the roots that made them so successful in their first year.