AEW Revolution: Sting Makes an Iconic In-ring Return in a Cinematic Match With Darby Allin, Defeats Brain Cage and Ricky Starks
Published 03/08/2021, 12:52 AM EST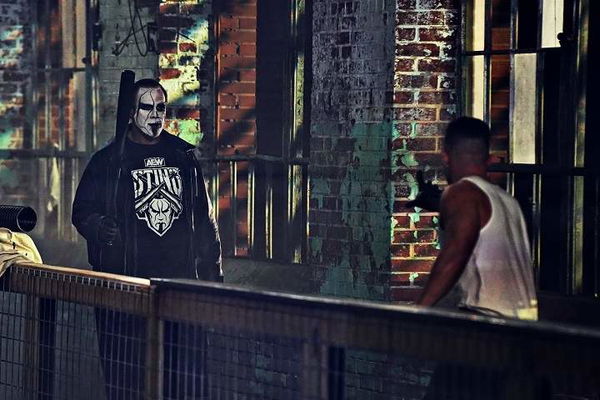 ---
---
'The Icon' Sting made his long-awaited return to the squared circle tonight against Brian Cage and Ricky Starks in a Street Fight. Ever since the match was announced, some fans were skeptical about it. Some wondered whether it was safe for Sting to take bumps, while others were happily waiting with excitement.
ADVERTISEMENT
Article continues below this ad
Sting and Darby Allin stand victorious following impressive Cinematic Street Fight
What do we even say about this match? This match exceeded expectations big time, and it was a perfect return match for 'The Icon.' The match didn't happen in the arena, but in a warehouse that had a ring set up.
ADVERTISEMENT
Article continues below this ad
Sting and Allin made their entrance, leading a gang of hoodlums to the ring. The hoodlums surrounded the ring, thumped the mat, and we were off to a flying start, quite literally! Sting kicked off the match, throwing Darby like a dart onto 'The Machine' Brian Cage while he took care of Ricky Starks.
Brian Cage quickly overpowered Darby Allin and showed how vicious he can be when he slammed him through the ring post. In the meantime, Sting was legitimately squashing 'Absolute' Ricky Starks.
Cage wasn't done as the fight spilled outside to another part of the warehouse. 'The Machine' grated Allin on the fence and choked him. He then went for a powerbomb on the concrete floor, but Allin escaped to get some momentum going for him.
A one of a kind matchup
All four men gave it their all in the match. They used all the elements in that setting, making it a fun contest to watch. The match went on for a little under fifteen minutes, but had some exciting moments in it.
Darby Allin literally elbow dropped from the window and sent Brian Cage crashing down from the top of the warehouse. Isn't that a crime? Well, Team Taz should've thought about it before messing with Sting and Allin.
ADVERTISEMENT
Article continues below this ad
After taking care of Brian Cage, Sting got his attention back to Ricky Starks. He brought the latter in the ring where he delivered his Scorpion Death Drop to win the match.
This match was definitely very different. The location they chose, the little details, the shooting angles were done extremely well. Although it was a cinematic match, it never felt staged. The emotion and the animosity showed in their battle.
Overall, this was a good cinematic match. Moreover, it was perfect for a legend like Sting to be a part of without risking his health. What did you think of the match? Let us know in the comments below!
ADVERTISEMENT
Article continues below this ad