AEW Superstar Cody Rhodes Excited for Release of Justice League: The Snyder Cut
Published 03/15/2021, 7:28 AM EDT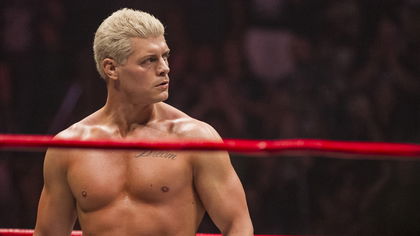 ---
---
The DC Universe and its millions of fans worldwide have been put on notice with the release of Director Zack Snyder's version of Justice League, which is believed to be much better than the original one released in theatres in 2017. 
ADVERTISEMENT
Article continues below this ad
While everyone waits, Cody Rhodes can't help but share that excitement and expressed his eager anticipation for the movie in a recent tweet. 
ADVERTISEMENT
Article continues below this ad
The movie, popularly called Snyder's Cut, has been the topic of debate since the box office failure of Justice League 2017. The movie, expected to be a huge hit and the breakthrough for DC, instead ended up disappointing on a massive level. 
As per fans and critics, it could not even come close to the levels of Marvel's Avengers and other movie franchises, nor did it reach the heights of The Dark Knight Trilogy. Director Joss Whedon faced criticism for his work, and fans immediately began asking for former Director Zack Snyder's version of the movie to be released. 
Snyder was the man responsible for the project but left production months before its release due to a family tragedy. The incomplete work was then taken up by Whedon, who decided to redo the entire thing. 
Unfortunately, the movie failed to highlight the key tones of its purpose and fell short of its goals. The 'breakthrough' movie of the DC world scored a measly 40% on Rotten Tomatoes.

The Snyder Cut is expected to highlight every aspect better
#releasethesnydercut has been trending since then and fans are eager to see Zack Snyder's rendition of the movie, which is believed to be superior.
It also apparently places the plot in a darker and more serious tone, reducing the humor aspect to a minimum. This, in turn, will increase its dramatic impact. 
The Snyder Cut will be released on Monday, March 18, which gives fans plenty of time to get ready. A lot of expectations have built up to this moment and only time will tell if it was worth the wait. 
ADVERTISEMENT
Article continues below this ad
Cody Rhodes has a busy week ahead of him
The week will be a busy one for Cody Rhodes and AEW as it has the Elevation event on Monday and Dynamite on Wednesday. The promotion has seemingly beaten NXT in the viewership war which is why it aims at taking things to the next level.
ADVERTISEMENT
Article continues below this ad
With the increase in announcement signings and PPVs, AEW is getting more popular by the day and we won't be surprised if they take on WWE Raw towards the end of the year.