Chris Jericho and MJF's Musical Performance Goes Viral on Twitter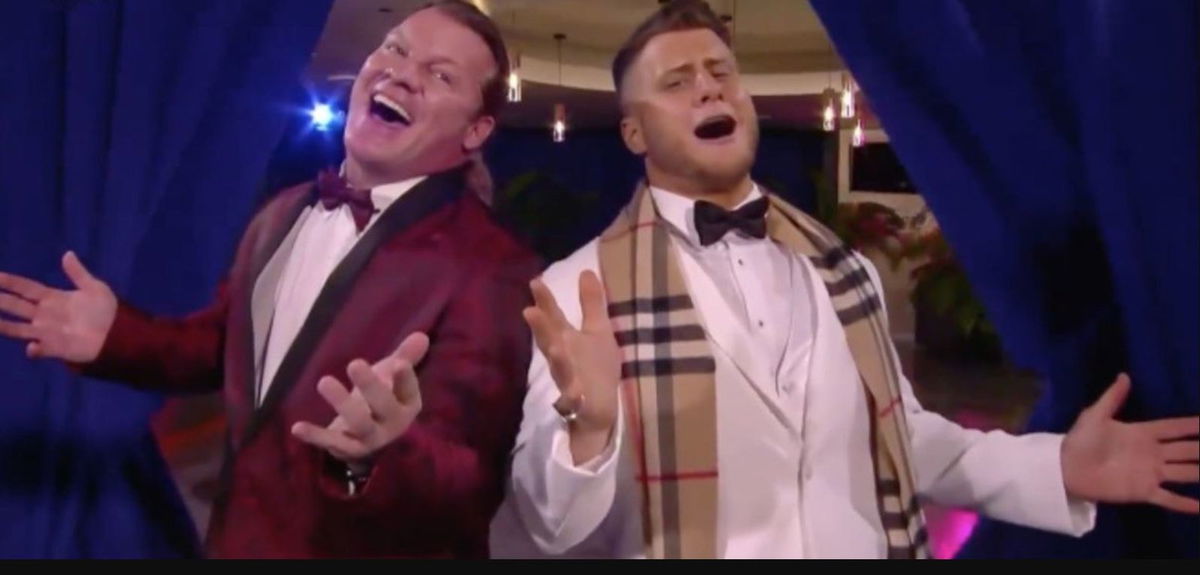 Last week on Dynamite, MJF accepted Chris Jericho's offer of a steak dinner called "Le Dinner Debonair." While every fan thought this was a simple dinner, Chris Jericho, MJF and AEW took everyone by surprise.
On tonight's AEW Dynamite, Chris Jericho and MJF were at their table for Le Dinner Debonair. Both Superstars wanted to better each other even while doing mundane things like ordering steaks.
They started on the same page but then changed their orders until Le Champion decided to order his steak "blue rare." They then started a musical performance. We are all aware of Y2J's singing skills with Fozzy; however, MJF's singing skills took us by surprise.
Relive the magic that was the special @IAmJericho & @The_MJF's Le Dinner Debonair.
Rewatch #AEWDynamite via the @tntdrama app or https://t.co/GdI7QAsxEP for our International fans.

WATCH: https://t.co/NVkbyvJxFy pic.twitter.com/E2RHPh2q1V

— All Elite Wrestling (@AEW) October 22, 2020
This performance was like a traditional music video with dancers in the background. After completing their performance, they returned to their seats. When they got their steaks back, they were both 'rare'. They then called Velma the waitress once again to correct their order.
AEW fans cannot get enough of Chris Jericho and MJF
Check out some fan reactions on Twitter for the wonderful musical segment on Dynamite.
If it's on a wrestling show, no matter what "it" is, Chris Jericho can make it work.#AEWDynamite

— Gary Cassidy (@WrestlingGary) October 22, 2020
MJF and Chris Jericho man. #AEWDynamite pic.twitter.com/nljdproWQ3

— ℍ𝕖𝕖𝕝𝔹𝕒𝕪𝔹𝕒𝕪 (@HeelBayBay) October 22, 2020
The end the Chris Jericho and MJF #LeDinnerDebonair live #AEWDynamite 10.21.20.
Around 1:50, Trent's "nerd asses" tweet popped up on my phone so you may hear me read that and laugh. 😂 pic.twitter.com/MfspH3uVUB

— 𝙲𝚑𝚛𝚒𝚜𝚝𝚒𝚗𝚊 (@christina_tries) October 22, 2020
Only Chris Jericho and Maxwell Jacob Friedman could pull off a skit and segment like that and have me fucking with it! #AEWDynamite

— EliteAEW®️ (@EIiteAEW) October 22, 2020
MJF and Chris Jericho are just geniuses, Incredible segment#AEWDynamite pic.twitter.com/HFwvcjq9lT

— Melvin.Jacques (@MelvinJacques7) October 22, 2020
— Patrick (@PatrickGordon95) October 22, 2020
— Jesse James Jobin (@ShaoliNSANE) October 22, 2020
— JD Ultra (@JD_Ultra) October 22, 2020
AEW's answer from Elias's concert on Monday

— JOEL C. MARTINEZ (@JOELCMARTINEZ1) October 22, 2020