"Cut His Head Off!" – Jon Moxley Reveals How Nick Gage Almost Killed Him Listening to Fans
Published 04/20/2021, 10:43 AM EDT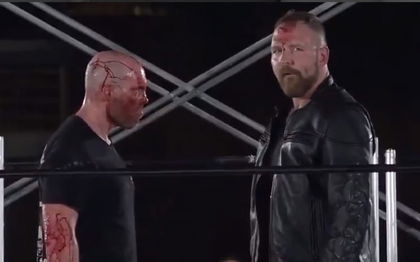 ---
---
Extreme Championship Wrestling (ECW) may have closed its doors twenty years ago, but hardcore fans still miss their extreme brand of violence. And speaking of extreme violence, Jon Moxley is a name that comes instantly to our minds.
ADVERTISEMENT
Article continues below this ad
Moxley might be the most popular hardcore superstar of the current generation. But there was an even much hardcore man who took Mox, to the limit.
Dark Side of the Ring is returning with another season. One man that would be featured is Nick Gage – The King of Ultra Violence. In a recently released promo of Gage's episode, Jon Moxley talked about the time 'Nick F*n Gage' cut him like a pizza!
ADVERTISEMENT
Article continues below this ad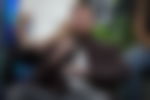 When Nick Gage cut Jon Moxley like a pizza
Moxley narrated what Nick Gage did to him on March 13, 2010 in a CZW World Heavyweight Championship match. Before we get to what Mox said, for those who don't know Nick Gage, he is widely known as a deathmatch wrestler.
Gage was a staple of Combat Zone Wrestling for several years, and he currently wrestles for Game Changer Wrestling (GCW).
Coming back to the pizza incident, Moxley revealed how Gage entered the match all pumped as the crowd cheered his name. There were anywhere about fifty to hundred people at the show. Mox said he thought he'd be just another match, and he'll pull off tricks to bleed and not severely hurt himself.
However, all things didn't go as per Moxley's plan. Gage brought out a pizza cutter, and the crowd went berserk! This only fueled the crazy violent man in Gage even more. Jon said, "First one on one encounter he pulled out a pizza cutter. I'm thinking, he'll give me a nice working. I'll do a little poke and twist. It's all an illusion. Not so much."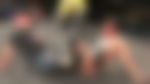 Moxley continued, "He gets me with a pizza cutter. And the crowd goes, 'Oh yeah!, kill him. Cut his head off!' So he gets excited."
ADVERTISEMENT
Article continues below this ad
 After Nick Gage got excited, Mox told him to get back and continue telling a good story in the ring. But Gage was too pumped. He shoved Mox in the ropes and put the pizza cutter in his mouth and cut it!
Moxley's tongue lopsided as Gage continued the fury. Despite that, he completed the match against Nick Gage. Yes, this is all too extreme, but that's what CZW and hardcore, deathmatch wrestling is all about. The irony is, so much pain and blood for the entertainment of only a mere hundred or even less people.
ADVERTISEMENT
Article continues below this ad