Dream Matches, Invasion Angles and More: What Can We Expect from the Working Relationship Between AEW and NJPW
Published 02/11/2021, 8:37 AM EST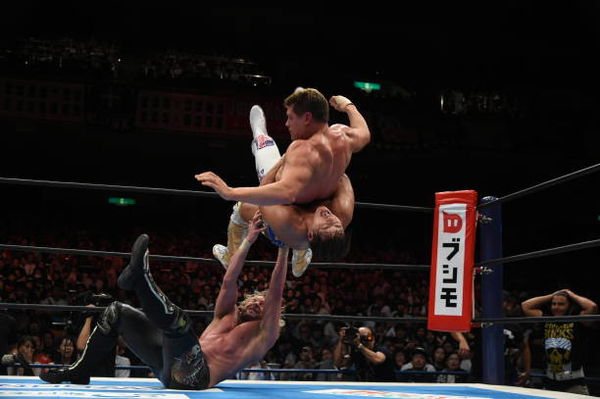 ---
---
Kenta broke down the forbidden door between NJPW and AEW. Despite Jon Moxley's title reign and Chris Jericho already competing at NJPW's grandest stage, Wrestle Kingdom, Kenta's arrival at Daly's Place was the defining moment.
ADVERTISEMENT
Article continues below this ad
He attacked Jon Moxley and staked his claim for the IWGP US Heavyweight Championship. With that, Kenta has kicked down the door for future collaborations.
The forbidden door is opened by Kenta and Tony Khan
ADVERTISEMENT
Article continues below this ad
Tony Khan and NJPW seem to have reached an agreement on a working relationship. Similar to AAA and IMPACT, now NJPW stars will be able to feature on AEW television. There is nothing more groundbreaking than that in wrestling in 2021, and we're only in February.
Kenta's arrival serves the purpose of furthering his feud with Jon Moxley. At New Beginning USA, Moxley will defend the IWGP US Heavyweight Championship against the former Hideo Itami. Apart from building to that match, it also opens the avenue for multiple angles and dream matches.
Bullet Club vs Bullet Club
The first angle that comes to mind is the AEW Bullet Club vs New Japan Bullet Club. By reuniting on New Year's Smash, Kenny Omega, the Good Brothers and the Young Bucks threw up the 'Too Sweet'. The original Bullet Club in New Japan did not take kindly to it. Jay White responded to the AEW Bullet Club, calling them a 'cheap rip off' and a ploy to sell t-shirts.
A meeting between the factions could be a blockbuster moment in modern wrestling, especially an invasion angle. Seeing Kenny Omega face off with Jay White, two of the biggest foreign heels to dominate on Japanese soil, will be nothing short of a dream match.
A tag team clash between the Good Brothers and the Guerillas of Destiny would be a slobber-knocker for the ages.
AEW Champion vs IWGP Champion: the Golden Lovers reunite
The IWGP Heavyweight Championship and the AEW World Championship are held by two former tag team partners. Kota Ibushi and Kenny Omega were partners in NJPW and prior to that in DDT Pro Wrestling.
Their friendship is one of the strongest in wrestling, but their matches have been nothing short of excellent.
To add a little sauce to an already eagerly awaited dream match, Ibushi is the only wrestler to kick out of Omega's One Winged Angel. A champion vs champion match would be massive for both promotions, and a genuine treat for fans of fast-paced, hard-hitting wrestling.
Ace of AEW vs Ace of New Japan
While Kenny Omega and Chris Jericho are undoubtedly superstars, the one person who put AEW on the map is Cody Rhodes. He is fitting of the title, the Ace of All Elite Wrestling.
NJPW has an Ace of their own, a legendary god-like wrestler who rescued the company from the doldrums. That man is Hiroshi Tanahashi. Tanahashi has battled many of AEW's talents during their runs in NJPW, including a Wrestle Kingdom classic against Kenny Omega.
A match between the Ace of AEW and the Ace of New Japan will be an unforgettable one. The Cross Rhodes vs the High Fly Flow will be the centre of an epic rivalry based on whose contribution is more substantial to their respective companies.
It could also be a 'passing of the torch' moment, where Tanahashi hands Cody the title of the true Ace of wrestling.
The Rainmaker comes to AEW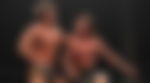 Arguably the greatest and most popular wrestler in Japan, Kazuchika Okada is a global phenomenon. His 720+ day reign with the IWGP Heavyweight Championship transformed him from a fighting champion to an absolute god of professional wrestling. Many have attempted to step up to the King of NJPW, and all have failed.
Since dropping the title to Tetsuya Naito in 2020 and winning his rivalry with Will Ospreay, Okada desperately needs a new challenge. A run in AEW could be a chance for Okada to showcase just how good he is to an American audience.
ADVERTISEMENT
Article continues below this ad
The biggest match AEW can book if the collaboration continues is Kenny Omega vs Kazuchika Okada. Okada and Omega wrestled four magnificent matches from 2017 to 2018, all of which have broken Dave Meltzer's five-star rating scale. Their 70-minute war of attrition at NJPW Dominion 2018 received an absurd seven-star rating from the WON head honcho.
Okada vs Omega is too big a match for AEW not to book. Along with this, we might witness a plethora of dream matches and interactions between New Japan's Junior Heavyweights and AEW's mid-card talent.
These are exciting times to be a wrestling fan, and things are only going to get better.
ADVERTISEMENT
Article continues below this ad