"Dumb Old Bi**h" – AEW Superstar MJF Criticizes Titanic After Watching It for the First Time
Published 11/02/2021, 8:00 AM EDT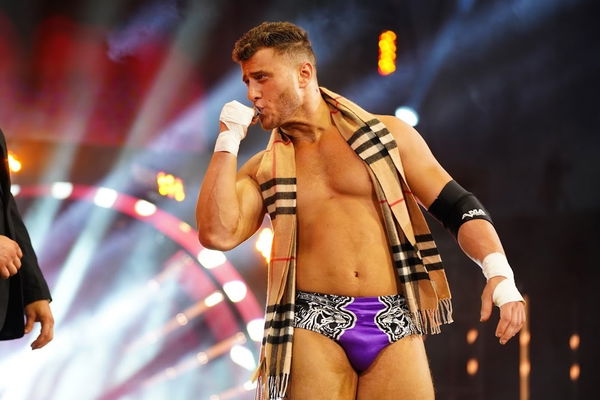 ---
---
People consider Titanic to be one of the greatest classics of all time, but AEW superstar MJF doesn't feel the same as everyone else after watching Titanic for the first time. 
ADVERTISEMENT
Article continues below this ad
MJF has a very loud personality on TV, interviews, and social media accounts and never misses out on an opportunity to live his gimmick. 
This time, he used his Twitter account to express his views on Titanic, and he didn't hold back. 
ADVERTISEMENT
Article continues below this ad
I just watched Titanic for the first time. That dumb old bitch literally just threw GENERATIONAL WEALTH into the ocean. You have a daughter you old trifling skank! Not everything's about you.

HORRIBLE MOVIE!

— Maxwell Jacob Friedman™️ (@The_MJF) November 2, 2021
One would think that he would get a lot of hate for hating on a classic, but shockingly, many wrestling fans agreed with MJF regarding his views. 
While some said that the main character, Rose, was selfish and could have helped Jack survive, others wanted more movie reviews from the former Dynamite Dozen Battle Royale winner.  
MJF is one of the many superstars who uses their Twitter account efficiently to create more heel momentum amongst the fans. Unfortunately, it backfires on him because the fans love MJF and his funny tweets. 
Watch This Story: Brock Lesnar Gets Fined, Charlotte Flair Gets a New Challenger, Sasha Banks Gets Ambushed
MJF to sign with WWE soon?
MJF is the best heel in AEW right now and is the fastest-rising wrestler in the industry. He has proved it multiple times.
The AEW superstar spoke about his contract with AEW with SteelChair Wrestling Magazine. When asked about where he sees himself in three-four years, he said-
 

View this post on Instagram

 
ADVERTISEMENT
Article continues below this ad
"I'd say I'd be near the end of my contract. I would be the AEW World Champion, I would still be a part of the greatest faction in professional wrestling known as The Pinnacle, all of my brothers in arms would also have gold and then, at that point, the highest bidder, baby."
MJF added on to his previous statement by saying that he goes wherever the money's at. Although he mentioned that AEW "runs deep" in him, he was open to doing business with WWE in the future. It would depend on who was the highest bidder for his services.
ADVERTISEMENT
Article continues below this ad
Maxwell is clearly on his own way to becoming the best heel in business, and WWE is still the standard and the top company in professional wrestling.
Hence, it wouldn't be a shock to see a star like him show up to Raw or SmackDown after his AEW contract is over.