Everything That Went Wrong With Cody Rhodes vs Anthony Ogogo at AEW Double or Nothing
Published 05/30/2021, 10:15 PM EDT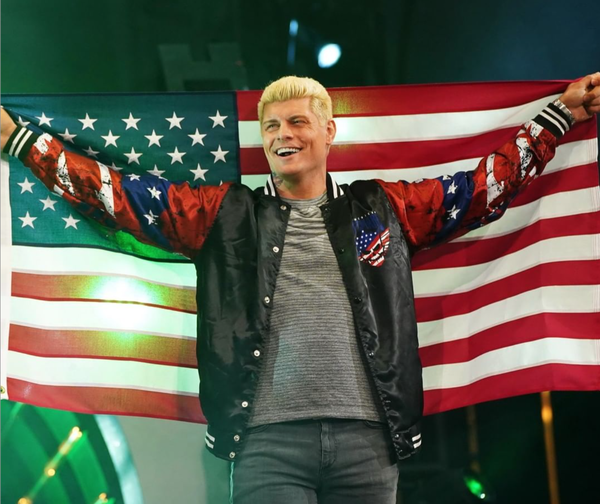 ---
---
AEW Double or Nothing had some pretty great moments, with fans back in the stands to support their favorite stars. Unfortunately, ome things fell short of expectations. A certain match that felt out of place on the card was Cody Rhodes vs Anthony Ogogo.
ADVERTISEMENT
Article continues below this ad
The match itself went out as planned, and there were no botches despite Ogogo's limited experience in the wrestling business. However, the fight didn't really make the mark in terms of storytelling or booking.
ADVERTISEMENT
Article continues below this ad
Here are the reasons Cody Rhodes vs Anthony Ogogo didn't take off as expected. 
Firstly, coming into the fight, Ogogo was always the underdog. It was a known fact that his right eye isn't too strong which means that it was an easy target for Cody Rhodes all along. Fans assumed the first thing Cody would exploit would be that right eye, which he did. 
'The American Dream' had his rival bleeding in the first few minutes itself. The rest of the match was pretty much a given from there on. 
As a setting up, AEW booked the duel as a USA vs UK sort of affair, but there was no vibe of a clash of nations in it at all. When you book a battle of nations, you expect something near the levels of Rocky IV. Rhodes vs Ogogo didn't give that animosity out. 
At most, it was a clash of sports in wrestling and boxing and even that wasn't evident enough. The feud wasn't built up too well which is probably why it fell short of the mark. 
Anthony Ogogo has no good advantage over Cody Rhodes
Storytelling-wise, Ogogo had one move which was built up for weeks- his punch. Rather than saving it as a finisher, the boxer used it in the opening seconds of the match. This left fans wondering how he was going to finish Cody off. 
ADVERTISEMENT
Article continues below this ad
The entire concept of the weigh-in didn't really make sense. It's well known that professional wrestling allows a disparity in weight classes.
We just saw Miro decimate Darby Allin for the AEW TNT Championship a few weeks ago and before that, the late Brodie Lee to Cody Rhodes for the same title. There weren't any consequences for not cutting the weight like in UFC, so the weigh-in was pointless.
ADVERTISEMENT
Article continues below this ad
In conclusion, Anthony Ogogo was never in it, and Cody Rhodes was winning the feud all along. Showing Ogogo having an advantage would make it interesting, but AEW failed to build this one up as well as other storylines.