Fans Troll AEW CEO Tony Khan for Over-Hyping the Return of PAC
Published 11/11/2020, 11:49 PM EST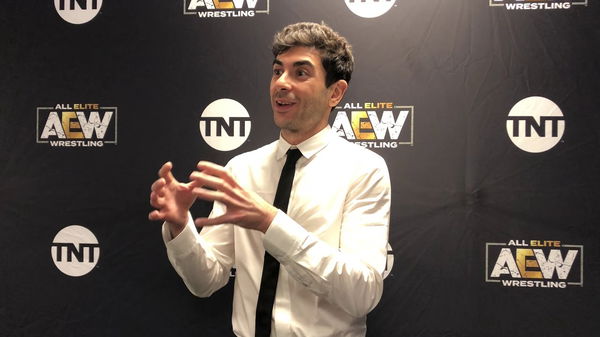 ---
---
Tony Khan just pulled a classic bait-and-switch on this week's episode of AEW Dynamite. The owner of the company pulled up a stunt that only WWE could have and got absolutely eviscerated on Twitter.
ADVERTISEMENT
Article continues below this ad
The CEO makes an announcement
ADVERTISEMENT
Article continues below this ad
"Stay till the end of AEW Dynamite, I promise it will be good," said Khan marching out to the stage. Coming off of Full Gear which was critically acclaimed, Khan was a little too over-confident that the main event would blow people's mind away.
After Pentagon Jr. beat Rey Fenix in the main event, Eddie Kingston walked out to admonish Fenix out of the group. This led to the return of PAC, who had been absent from AEW since the beginning of the pandemic.
This was quite a big return for AEW. PAC is one of the biggest wrestlers in the world and adds some star-power to the show. However, Pac was absolutely not what the fans wanted to see at the end of the show.
Fans troll Tony Khan on Twitter
The return of PAC was not a big enough deal to close the show, according to a plethora of fans on Twitter. Tony Khan was the main target of the fans' ire, getting trolled left, right and center for his naivety and classic WWE tactics.
If it's not, then dat seals the deal. I no longer am an AEW fan. Dis company is pure and utter embarrassment to pro wrestling and its fans. I will not be renewing my AEW heels next month nor will I watch on tv again. I'm going to WWE where they know how to run a wrestling company

— iBeast (@x_Beast17_x) November 12, 2020
Khan hyped up the segment so much that fans were expecting someone along the lines of Brock Lesnar, CM Punk or even Sting. All three have teased AEW appearances after being released by WWE but not one has made an appearance.
Fans targeted AEW hyping up certain matches and angles that do not deserve or warrant the hype. Similar to today, Jon Moxley vs Jake Hager was hyped as 'one of the best' World Championship matches you'll ever see, but ended up being a complete snoozefest.
Tony, I love you and AEW, but stop with the hyperbolic descriptions for shows. You promised Mox/Hager to be one of the best world title matches on television ever, even after it was taped and you knew how shit it was. Now PAC's return is a power shift? Idk man.

— finn❌JSS (@AEWFinn333) November 12, 2020
ADVERTISEMENT
Article continues below this ad
After the debut of Miro, and pulling off massive returns like Darby Allin's or Cody Rhodes' return last month, it seemed that AEW had figured out how to not ruin situations that could be monumental. Today's situation undoes all the previous work they did.
Please don't hype surprises like Dixie did. Just let them happen & we'll be pleasantly surprised.

— Scott Random #AEWDETROIT (@RealScottRandom) November 12, 2020
ADVERTISEMENT
Article continues below this ad
However, the situation might not be as bad as fans are making it seem on social media. The return of PAC is fantastic news for the company, and for fans who love his eye-popping offence. However, being compared to Dixie Carter has to make you rethink, right?