From Ricky Starks to Miro, Four AEW Rivals That Chris Jericho Must Face in 2021
Published 01/17/2021, 1:09 AM EST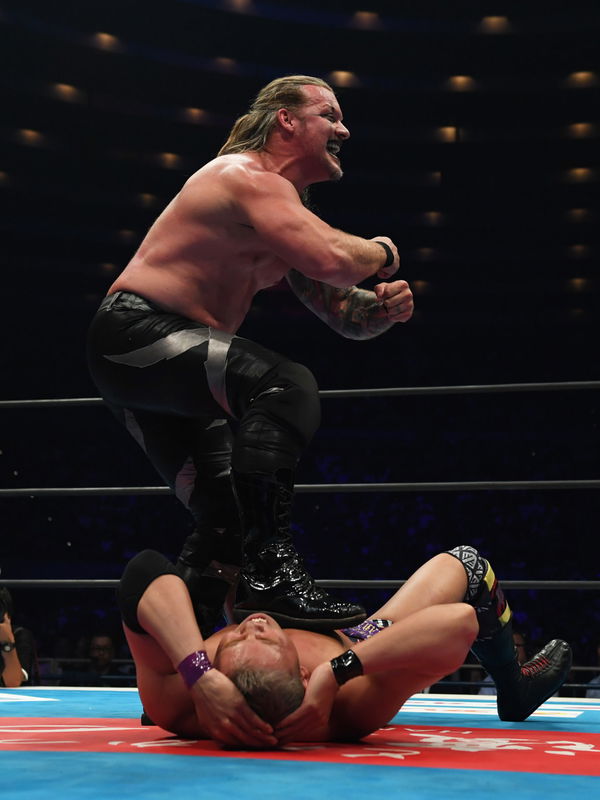 ---
---
In 2020, Chris Jericho had some high-profile rivalries against a bunch of young talent. Although he began the year as the AEW Champion, Jericho lost every one of these rivalries. He put over Jon Moxley at AEW Revolution by dropping the title to him. Jericho even elevated two massively talented youngsters MJF and Orange Cassidy on PPV. Which superstars will benefit from feuding with Y2J in 2021?
ADVERTISEMENT
Article continues below this ad
Ricky Starks guns for Chris Jericho
ADVERTISEMENT
Article continues below this ad
Team Taz enjoyed a decent run in the spotlight during Brian Cage's feud with Darby Allin. Although he could not wrench the title from him, Taz and his men are still AEW's most talented wrestlers. Amongst their ranks is a youngster who many consider a future world champion.
Ricky Starks debuted in AEW as Cody Rhodes' opponent for the TNT Championship, Once he officially signed for the company, he aligned with Taz and Brian Cage, which shot his career into the stratosphere.
Feuding with Chris Jericho would do a world of good for the young Starks, who needs a few high-profile wins to challenge for a singles championship. Once he gets past Jericho, a match with Darby for the TNT Championship won't be far away.
Shawn Spears rises to the occasion
The former Tye Dillinger has been one of AEW's top heels since 2019. He attacked Cody Rhodes with a devastating chair shot, which gave him the nickname the 'Chairman', and a pretty cool entrance to boot. However, Spears has not been firing on all cylinders since his feud with Cody.
Spears has wrestled on AEW Dark more than Dynamite, even though he's being managed by Tully Blanchard, one of the all-time greats. Fans received well his series of matches with Scorpio Sky, but it didn't transpire into anything.
By challenging the leader of the Inner Circle, Spears can become the talent that AEW envisioned him to be, and might even rise to a main event position once again. He is a great wrestler, and a match between him and Jericho would be pretty entertaining.
Sammy G turns on his boss
The tension amongst the Inner Circle ranks is already old news. Since MJF joined the group, Sammy Guevara, Santana and Ortiz have been voicing their displeasure very subtly. On Dynamite, Jericho declared that he and MJF are now 'the' team in the Inner Circle, which angered all three men.
It is only a matter of time before Sammy turns on his mentor. Jericho has already elevated Sammy's career to unbelievable heights, but by putting him over cleanly, it will work wonders for the latter's young career.
The perfect place for Sammy to lose his sh*t at Jericho would be on Dynamite, once MJF cheats to win the three-way tag team clash to determine 'The' team in the Inner Circle. A match between Jericho and Sammy, and subsequently MJF and Sammy would be absolutely scintillating.
Chris Jericho comes in Miro's sight
ADVERTISEMENT
Article continues below this ad
Since debuting in AEW, Miro has looked far less threatening as he did during his WWE debut. Although the gimmick was corny, Rusev was scary as hell, and with a size and speed of a shark, Rusev was magnificent in WWE.
His AEW gimmick is popular, but his career has not yet taken off. Attaching him with Kip Sabian has not done him any favours, so Miro might need to move onto a bigger fish. Chris Jericho might just be the big tuna that Miro is fishing for in AEW.
Rusev and Jericho did not cross paths often in WWE, but a match between the two in AEW would be killer. It would be the battle of two of the biggest ex-WWE stars, trying desperately hard to stay relevant in a new company with younger talent.
ADVERTISEMENT
Article continues below this ad
Along with these names, AEW entrusts Jericho with the responsibility of making young talent look incredible. By looking at what he's done for MJF, Orange Cassidy and Jon Moxley, one can't help but get excited to see Chris Jericho go up against a superstar you really want to pushed.