"Greatest Match in AEW History" – WWE Legend Praises Dr. Britt Baker Following Her Match Against Thunder Rosa
Published 03/19/2021, 2:29 AM EDT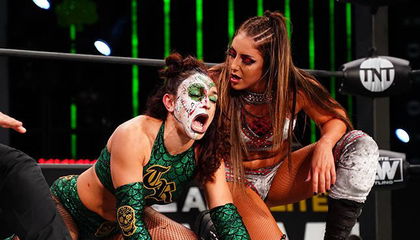 ---
---
Dr. Britt Baker and Thunder Rosa made history on AEW Dynamite as they became the first women to main event the show. Their Lights out unsanctioned match stole the show and is receiving high praise from everyone, including ECW Legend Bully Ray.
ADVERTISEMENT
Article continues below this ad
Bully Ray and David LaGreca shower high praise for Britt Baker vs Thunder Rosa
During the latest edition of Busted Open Radio, David LaGreca and Bully Ray talked about the infamous Lights out unsanctioned match from AEW Dynamite. Bully said there were no losers last night as both women got over big time (they received a standing ovation!)
ADVERTISEMENT
Article continues below this ad
LaGreca pointed out how the match between the women wasn't for a title or to be a #1 contender, yet they pulled it off extremely well. He said there are hardly any blow-off matches that entice the audience, and this was one of it.
LaGreca added that the Baker-Rosa match had a much better payoff than other feud blow-off matches.
The main event was so good that both David and Bully couldn't stop praising Britt Baker and Thunder Rosa.
LaGreca said, "I can't say enough good things about what I saw on that main event last night. Deservedly so, in the main event, the best match that I've seen so far, in this short history of AEW Dynamite."
It's not the matches, it's the moments!
WWE Hall of Famer Bully Ray also chipped in with his thoughts. He mentioned that in pro wrestling/sports entertainment, it's not the matches that wrestlers create, but the moments they create.
He continued, "Britt [Baker] has brought so much to the table for AEW. Why did I post a picture of her and Steve Austin? Because that's what it reminded me of. If you're eliciting that kind of emotion in people, to me, you did one hell of a job. And both of those women did one hell of a job."
Bully Ray and David LaGreca also talked about how hardcore matches are often overdone, but AEW were spot on with this match. There were a lot of elements, from tables and ladders to thumbtacks and everything in between. And yet, nothing felt overdone. They noted how everything in the match meant something.
Bully said, "They did it in a way that it was another chapter in the story that they were telling us. They didn't overuse any of that. Those women sold. They registered. They showed me their face, they showed me the pain, the anguish, they showed me the struggle, everything that a blood feud match is supposed to be."
ADVERTISEMENT
Article continues below this ad
Well, we 110% agree with Bully Ray and David LaGreca. The Lights out unsanctioned match was a thing of beauty and will be one of the best matches/moments in pro wrestling history.
It's funny how a couple of years ago, these two women were hardly known to fans. But now, they are the talk of the town. Kudos to both women!
ADVERTISEMENT
Article continues below this ad