"He is not a Character" – Rusev Compares AEW Superstar to The Miz
Published 09/17/2020, 10:23 AM EDT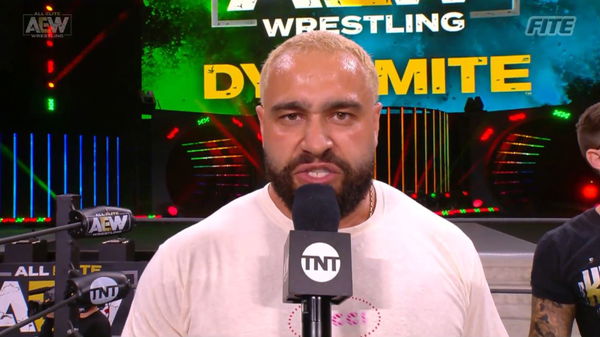 Rusev has rechristened himself as Miro after his AEW debut. Since his arrival, Miro has met lots of prominent AEW superstars backstage. In a recent stream on his YouTube Channel, Miro compared AEW's snob MJF to WWE's must-see superstar The Miz.
ADVERTISEMENT
Article continues below this ad
Rusev praises MJF after AEW debut
Rusev was released from WWE back in April due to pandemic related budget cuts. Since then, he gained a considerable amount of followers on Twitch and YouTube. However, Rusev wanted to go back to the squared circle.
ADVERTISEMENT
Article continues below this ad
Last week, his wish came true as he debuted in AEW as Kip Sabian's "best man". Although, he proclaimed himself as THE best man.
In the post-AEW stream, Miro revealed, "I'm a big fan of MJF, watching his promos. He is really doing… I was gonna say he's really playing that character well but meeting him backstage. …. He is not a character, that's who he is: and that's the key man! That's the key to being so good."
ADVERTISEMENT
Article continues below this ad
"Because he is that person. He is that cocky…little.. you know loudmouth talking, 'I'm the all cool' type of deal guy. Not in a bad way, not in a bad way at all. He is in a good way but you can just tell. When he is backstage he's like the way he carries himself, he is the guy on TV," the Bulgarian Brute concluded.
After his short in-ring promo, he went backstage and met a bunch of AEW Superstars like Matt Hardy, Excalibur, Best Friends, and Orange Cassidy. However, it was MJF who caught his attention the most. Miro also compared MJF to Miz and spoke about their similarities.
"The Miz had very similar qualities. The Miz is still one of my favorite all-around performers because he was that guy, he was always the Miz. The Miz can be always the Miz. MJF can be MJF, well in the past two days that I've seen is what I noticed."
ADVERTISEMENT
Article continues below this ad
Miro then clarified by saying he is only complimenting MJF and does not want any bad blood.
It is good to see Miro getting accepted by his new company. Hopefully, there will be new storylines for the former WWE US Champion.