Kenny Omega Details the Insane Rules for Exploding Barbed Wire Death Match With Jon Moxley at AEW Revolution
Published 03/06/2021, 1:12 PM EST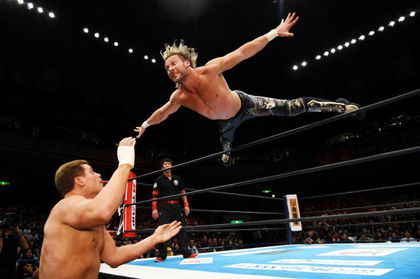 ---
---
The main event of Revolution will feature two of the best wrestlers in the world and the most insane stipulation. Jon Moxley and Kenny Omega will face off for the AEW World Championship in an exploding barbed wire deathmatch. On Twitter, the AEW Champion explained the rules of Sunday's blockbuster bout.
ADVERTISEMENT
Article continues below this ad
Kenny Omega explains the rules of exploding barbed wire match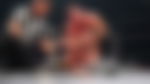 ADVERTISEMENT
Article continues below this ad
Omega and Moxley brought a new type of violence to a professional wrestling match at Full Gear 2019. Their unsanctioned 'Lights Out' match was the most brutal match of the decade, with Moxley emerging victorious.
By choosing the exploding barbed wire stipulation, Omega is trying to prove to the world that he can beat Moxley at his own game. The former AEW Champion has a history of wrestling with dangerous stipulations during his days in CZW.
THE RULES:

-3 sides of the ring ropes wrapped in barbed wire.

-contact with barbed wire triggers explosives on corresponding side.

-'Triple Hell' (3 zones on the floor wired to explosives)

-30 minute countdown timer until all explosives in and around the ring detonate. pic.twitter.com/vK1cZjSfHF

— Kenny Omega (@KennyOmegamanX) March 6, 2021
According to Omega's tweet, these are the rules of the match.
Three sides of the ring ropes will be covered with barbed wire. When a wrestler comes into contact with the barbed wire, a set of explosives will go off, which is sure to char their skin.
There will also be a 'Triple Hell', which is essentially three parts of the arena floor rigged with explosives. Thirty minutes into the match, all the explosives in and around the ring will go off.
If these rules don't explain the insanity of the stipulation, maybe their match at Revolution will convince everyone.
Predictions for AEW Championship match
The dangerous stipulation favors Moxley, who's already won two similar matches. His wars against Eddie Kingston and Omega prove the former WWE star will know his way around the barbed wire.
In Omega's pocket lie the Good Brothers and Don Callis. Luke Gallows and Karl Anderson have been in the champions' corner since debuting on the New Year Bash episode. One must be stupid to assume they won't have a hand to play in Sunday's main event.
ADVERTISEMENT
Article continues below this ad
Both wrestlers are bound to have their skin torn by the barbed wire and their flesh charred by the explosives. In the end, one man will emerge victorious. That man is quite possibly going to Kenny Omega.
Omega's reign has been excellent so far, and he's a far superior wrestler than Moxley. The former champion is an excellent babyface, but the Cleaner is a vastly superior entertainer.
His heel persona has really taken off since winning the championship, and for a wrestler of his status, Kenny Omega deserves to walk out of AEW Revolution as the AEW Champion.
ADVERTISEMENT
Article continues below this ad