AEW Superstar Miro Threatens Pro Wrestling Analyst Jim Cornette After Insulting Remarks
Published 03/14/2021, 8:13 AM EDT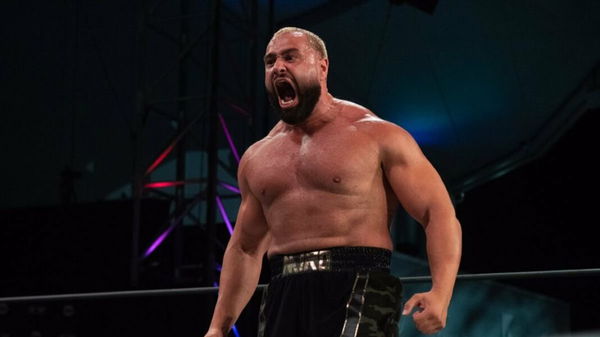 ---
---
Things got extremely heated a few hours ago as wrestling podcaster Jim Cornette criticized AEW Superstars Miro, Kip Sabian, and Penelope Ford in words that went in very bad taste. 
ADVERTISEMENT
Article continues below this ad
In his podcast, Cornette described Miro's role in AEW as "paired with a f***ing kid that looks like he's in middle school and his sl**ty girlfriend", referring to his wedding angle with Kip Sabian and his wife Penelope Ford. 
The Bulgarian did not take these words lightly and called out Cornette in a recent post on Twitter, threatening to personally drive to his residence and take things to another level. 
ADVERTISEMENT
Article continues below this ad
Miro, known for his aggressive in-ring persona, defended his colleagues against Jim Cornette, who has issued no further statement following this backlash. However, Sabian and Ford also shared their piece of mind on Twitter. 
Replying to Miro, Sabian offered to join in on the confrontation and wanted to let Penelope do the honors. Although, this reaction was fairly mild compared to what Penelope Ford had to say about the comment. 
I mean he has multiple times… but he lets people fuck his wife while he watches, so what does he think of her… but she's probably the only person besides himself he feels bad for because his little dick can't please her after five blue chews & needs other men to do it for him

— Penelope Ford (@thePenelopeFord) March 13, 2021
Miro has risen above a lot of negative criticism
Miro has been enjoying life in AEW and is still getting in his boots as a main roster talent in the company. However, many criticize him over the lack of a convincing storyline months after joining the promotion.
ADVERTISEMENT
Article continues below this ad
Drawing comparisons to his time in WWE, fans have joked that last year in WWE as Rusev, Miro was involved in a wedding angle with his wife Lana and Bobby Lashley. Now, a year later, he is still involved in a wedding angle (with Sabian and Ford) while Lashley has gone on to win the WWE Championship.
However, he is calm in the face of criticism and asks fans to be patient. Time and again, we get to see displays of strength from the star and we are constantly reminded of his sheer strength. Miro is slowly breaking through the cage and we could be looking at the future powerhouse of AEW. 
ADVERTISEMENT
Article continues below this ad
Building a character is hard, and Miro's journey will consist of cheesy angles such as this one, but there will be something good that comes out of it. Until then, he will have to turn a deaf ear to the negative criticism. 
Although, Cornette's poor choice of words was certainly uncalled for and insulted the three stars personally and professionally. We are yet to find out if he issues a statement for his remarks or not.