SHOCKING: Cody Rhodes Loses TNT Championship at AEW Full Gear
Published 11/07/2020, 10:08 PM EST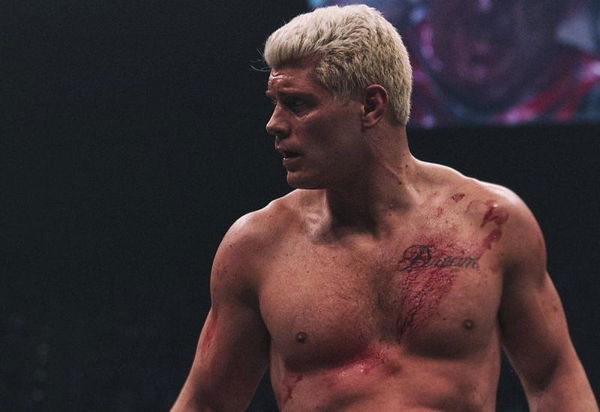 Darby Allin just pinned Cody Rhodes to become the new TNT Champion. This is Darby's first title win in AEW, and his first win against Cody Rhodes.
ADVERTISEMENT
Article continues below this ad
Cody and Darby have faced each other on multiple occasions in AEW, with Cody winning two out of their previous three clashes. The win followed an excellent, fast-paced match between two of AEW's best wrestlers.
ADVERTISEMENT
Article continues below this ad
Cody and Darby battle it out at AEW Full Gear
Cody finally won the right to use his last name in AEW after winning the patent rights from WWE. Rhodes entered the match confident as ever, and why wouldn't he be.
The American Nightmare has outsmarted Darby on many occasions, even having the psychological edge over Allin after that sharp promo on Dynamite where he referred to himself as the Ace of AEW.
Allin made a badass entrance in a beat-up car, which suffered further damage by Darby's skateboard. The match begun with Cody using his obvious size and weight advantage against the smaller Darby.
Cody has the tendency to get cocky during his matches, which draws the ire of Arn Anderson. This time, Arn yelled at Cody to "just beat him!", while Cody was performing his customary push ups in the centre of the ring.
Cody looked to seal the match with his signature moonsault but Allin was able to avoid it. The challenger connected with a springboard Coffin Drop and then went absolutely berserk on the champion.
An exhilarating finishing stretch
Cody withstood the assault from Darby and both wrestlers found themselves atop the turnbuckles. Cody grabbed Darby and nailed him with an awesome Super-Cross Rhodes from the top rope. Cody crawled into the cover but Darby managed to get his foot underneath the bottom rope.
ADVERTISEMENT
Article continues below this ad
With Cody and Arn frustrated by the mistake, the champion looked to end things quickly. However, Darby turned the match on its head with an over-the-top stunner and the Coffin Drop. The referee counted the pinfall only for Cody to kick out within a hair's breath of the referee's hand hitting the mat for the third time.
Cody looked to connect with the Cross Rhodes one last time, but Darby reversed it into a pinning combination. The two traded pin combinations with both unable to put the other down, before Darby finally caught Cody in a trap that he could not get out of.
ADVERTISEMENT
Article continues below this ad
Lo-and-behold, Darby Allin becomes only the third TNT Champion, following Cody and Brodie Lee. AEW are 'All-in' on Darby Allin after his monumental win at AEW Full Gear.