WATCH: Sting Shows Up to Rescue Darby Allin From a Beatdown on AEW Dynamite
Published 01/07/2021, 11:55 AM EST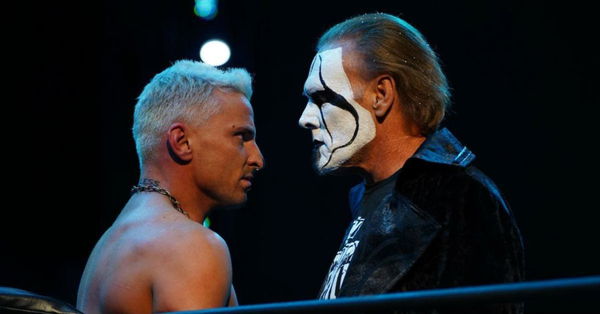 ---
---
Sting has been up to his usual vigilantism since signing for AEW. He kept up with his dark character on the recent episode of AEW Dynamite where he showed up to rescue Darby Allin who is scheduled to face Brian Cage next week for the TNT Championship. Before that, a weigh-in was scheduled for this week's Dynamite which almost descended into chaos.
ADVERTISEMENT
Article continues below this ad
Sting rescues Darby Allin
ADVERTISEMENT
Article continues below this ad
Darby Allin walked out sporting the brand new TNT Championship belt after the previous belt was retired and permanently handed to Brodie Lee Jr.
Brian Cage went first, but Taz protested against it as he felt it wasn't fair just because he was the challenger. Cage weighed in at a whopping 272 pounds.
Darby took the scale next with Taz taunting him. The champion weighed in at just 170 pounds which meant there was a 102 pound difference between champion and challenger.
Taz protested against that as well claiming Darby should get rid of his jacket, shoes and belt as well. Before Tony Schiavone could say anything, Darby grabbed the microphone from him.
"Taz, you may say this feud has been nine months in the making, but in reality it's 27 years. Because I've dealt with sh*t my whole life from people like you, and we all know how this ends tonight. So lets get to the fun part."
Taz looked visibly excited once Darby invited him to a beat down, but the vigilante had different ideas.
At this point, the lights went out, and snow started falling. Out walked Sting, and Team Taz retreated in a jiffy. They walked out to the stage where Taz cut another angry promo at Sting and Darby. He promised Darby that next week, a new TNT Champion will be crowned.
With Sting by his side, Darby might have a better chance at beating Brian Cage.
Can Darby Allin beat Brian Cage?
ADVERTISEMENT
Article continues below this ad
One can't help but imagine that Sting would cost Brian Cage the TNT Championship. The vigilante seems to have a real bone to pick with Taz and his band of stars and might do anything to cross the former ECW Champion. However, Allin's chances against Cage aren't all that bad if he walked into the match by himself.
ADVERTISEMENT
Article continues below this ad
Allin will have to dig down deep and find a fourth or fifth wind if he wants to beat a beast like Cage. As for Cage, he lost a significant amount of momentum when he lost his AEW Championship opportunity against Jon Moxley. Another loss might lead to him and Team Taz spiraling down the card. They've worked hard to get to the main event and will try their hardest to remain there.