The Story Behind Chris Jericho's New Finishing Move "The Judas Effect"
Published 03/20/2021, 1:41 PM EDT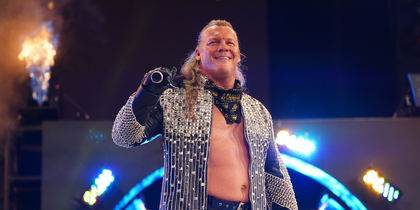 ---
---
Chris Jericho debuted a finisher move exclusively for his time in AEW, and in a recent podcast, he revealed the backstory of the move.
ADVERTISEMENT
Article continues below this ad
On one occasion, Jericho and Rafferty were sparring with each other. During this, Jericho tried a version of the spinning elbow, and it impressed him enough to make it his brand new finisher in AEW. As we all know, he named it 'The Judas Effect.'
"My trainer Josh Rafferty and I were doing some drills and I did a spinning elbow, basically, to the face. And I thought 'this is gonna be the new finish."
ADVERTISEMENT
Article continues below this ad
He revealed that he wanted to debut something for AEW, even though he already had several deadly finisher moves.
"I'm gonna debut in AEW something that's gonna be exclusive to AEW. And continue the constant evolving of Chris Jericho."
Jericho came up with this move right before AEW's Double or Nothing event at Las Vegas. He was scheduled to face Kenny Omega in the main event.
"If i connect with this move, I don't think it's gonna go well for Kenny or any other opponent…. so be aware."
Jericho's trainer revealed a truth about the move
However, his trainer clarified that this move is extremely technical, and most contact sport institutions do not teach his move. Hence, the fact that he picked it up promptly and decided to use it as a finisher is evidence of his immense skills inside the ring.
"A lot of people don't know a spinning elbow technique is one of the most dangerous and deadly strikes and most martial arts don't even teach it anymore."
Chris Jericho and Paul Wight discussed issues with WWE
Recently, Chris Jericho and Paul Wight spoke about the latter's transition to AEW. Both of them discussed the various issues Wight faced in WWE while performing there as Big Show.
Jericho was seen in complete agreement with Paul Wight. Both of them had similar reasons to quit WWE and join AEW.
While Big Show quit the company after realizing the company was using him only to put talent over, Jericho quit after a heated conversation with Vince McMahon.
ADVERTISEMENT
Article continues below this ad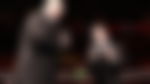 However, in different instances, both of them revealed that Vince McMahon called them after they signed their AEW contracts.
While Paul Wight revealed that Vince McMahon called to congratulate him on his AEW contract, Jericho revealed McMahon wanted to know if Jericho can back out of his AEW contract.
ADVERTISEMENT
Article continues below this ad
These two transitions to AEW had the whole WWE Universe in shock.