Tony Schiavone Defends Tony Khan's Cringeworthy Promo on AEW Dark: Elevation
Published 03/16/2021, 2:13 AM EDT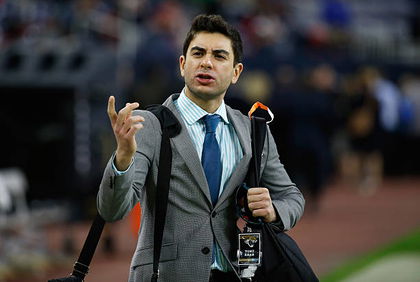 ---
---
AEW premiered the first episode of its new, weekly wrestling show – AEW Dark: Elevation last night. Paul Wight fka Big Show and Tony Schiavone are the official voice of the broadcast. The show had a ton of matches and moments, but the moment of the night was a cringy promo from AEW President, Tony Khan.
ADVERTISEMENT
Article continues below this ad
Tony Khan cuts a cringe-worthy promo on AEW Dark: Elevation
The AEW President appeared on the very first episode of AEW Dark: Elevation when he interrupted AEW World Champion, Kenny Omega. The AEW World Champion gave Matt Sydal a chance to get a shot at the AEW World Title.
ADVERTISEMENT
Article continues below this ad
Kenny Omega interrupted The Sydal Brothers' backstage interview following their tag team victory. He suggested that if Matt Sydal wants to get a shot at his title, then he must beat Michael Nakazawa.
Omega said if Sydal beats Nakazawa, then he would give him a non-title match against him. If Sydal wins that match too, then he will get a shot at the AEW World Championship. The impromptu match went underway immediately, and Matt Sydal came out victorious.
Despite winning, Kenny Omega refused to give Sydal a match, as he played with his words. This became too much for AEW President Tony Khan as he came out to the stage and announced a match between Sydal and Omega for the March 24 edition of Dynamite. He also added a stipulation that if Sydal wins, he will get a shot at the AEW World Championship.
While all this is okay, and a usual scene in the pro wrestling world, Tony Khan's promo wasn't definitely one of them. Tony looked like a young teenager who got the remote to the TV after years of being away from it. His words weren't clear, and he definitely couldn't show that he's 'mad' at Omega on the face.
Tony Schiavone defends Tony Khan's cringy promo
Everyone from the deepest corners of Twitter started tweeting out this cringy promo from the AEW President. While some said he sounded like an old man, others couldn't understand what he was saying at first! Defending all the criticisms, AEW Color Commentator Tony Schiavone put up a tweet.
ADVERTISEMENT
Article continues below this ad
I know @TonyKhan very well. He never wants to take up TV time with an appearance, but needed to deliver a message tonight on #Elevation to an out-of-control Kenny Omega. He's never done that on Dynamite and never intends to, but tonight he was the only one that could do it. @AEW

— Tony Schiavone (@tonyschiavone24) March 16, 2021
Schiavone explained that Tony Khan does not intend to take TV time from any talent, but he had no other choice today. Schiavone revealed that Kenny Omega has gone out of hand, and the only person who could stop him was Tony Khan. Well, it's funny how no one in AEW can say anything to Omega.
Either way, if Tony Khan wants to be on TV as an authority figure, then he surely must undergo a few promo classes. After all, not everyone is a born orator, right? What do you think of it? Let us know in the comments below!
ADVERTISEMENT
Article continues below this ad