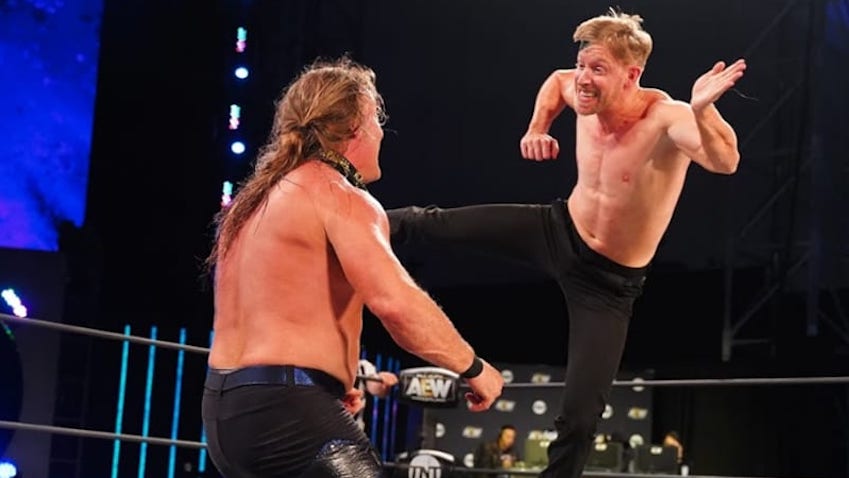 Week after week, AEW proves that it's the destination for a new brand of professional wrestling. Sometimes we feel that after so many years of programming, it's impossible to create new and interesting ideas in this art form. This week, AEW Dynamite ran with a simple idea of a debate competition and created one of the best segments of 2020.
To give you the context, AEW had announced a special Wednesday Night Debate between Chris Jericho and Orange Cassidy. It seems like the company has taken a leaf from the election season by incorporating it in the MJF storyline as well.
Anyways, all debates require a fair moderator. This debate got one of the best in the business. As Jim Ross rightly proclaimed, Eric Bischoff made a return to TNT television after 20 long years.
Read more – Chris Jericho Reveals Names of Major WWE Superstars he Wants in AEW
Bischoff declared that both Superstars will be subject to five questions. As he began his list, Jericho used each question to berate Cassidy and his attitude. In fact, he called him an example of everything that is wrong with professional wrestling.
Characteristically, Cassidy maintained silence. However, in one of the most hilarious plot ywists you'll see, Bischoff asked a question on global warming and the rising sea levels.
Eric Bischoff is gold. Jericho is gold. Orange is gold. That whole debate was perfect. Loved the evolution and intensity of Cassidy. #AEWDynamite pic.twitter.com/JZNtOiZmDK

— Chris Sinister #ImwithAEW🧨 (@ChrisSinister86) August 6, 2020
While Jericho called it out, Cassidy had a fair bit to say. If you weren't already a big fan, Cassidy gives you another reason by showing that he cares about the planet.
After all the fun was over, Bischoff addressed the elephant in the room. Why is the match next week so important? As Jericho was beginning another rant, Cassidy stopped him in his tracks.
The promo that followed proved why Orange Cassidy is about to become the next big thing.
"Why does this rematch mean so much to both of you" – @EBischoff.

Watch #AEWDynamite NOW on @TNTDrama or https://t.co/GdI7QAsxEP for our International fans. #AEWonTNT @AEWonTNT pic.twitter.com/84ZxCcoPAo

— All Elite Wrestling (@AEWrestling) August 6, 2020
Twitter appreciates the AEW debate segment
Twitter was very happy with AEW and the two performers. There was a lot of joy because of Bischoff returning.
Orange Cassidy was absolute money in that debate segment with Jericho tonight. Perfect mix of not giving a f*ck, while also showing he means business.#AEWDynamite

— Ryan Satin (@ryansatin) August 6, 2020
ORANGE CASSIDY JUST CUT THE MOST FIRE PROMO IN THE HISTORY OF THE UNIVERSE #AEWDynamite pic.twitter.com/QalOakVGyT

— Jessi Davin (@jessithebuckeye) August 6, 2020
The @IAmJericho & @OrangeCassidy debate was 1 of best #AEWDynamite segments ever. Jericho the bully & hilarious roast. OC comedy w/ Frank The Tank global warming lecture debate comeback. OC also meant biz & in Jericho's head about how important match is. Bravo to all involved!

— Justin LaBar (@JustinLaBar) August 6, 2020
THE TRUE PLANETS CHAMPION #AEWDynamite pic.twitter.com/nJuBQdaei3

— Jessi Davin (@jessithebuckeye) August 6, 2020
When Jericho realized he lost the debate #AEWDynamite pic.twitter.com/ttus14PrxY

— Chris Sinister #ImwithAEW🧨 (@ChrisSinister86) August 6, 2020
Eric Bischoff and Chris Jericho on TNT. #AEWDynamite pic.twitter.com/GKsj2cbEQV

— Mario Torres (@MarioLeonTorres) August 6, 2020
The debate between @orangecassidy and @IAmJericho on #AEWDynamite was LEGENDARY!!! Not even this year's Presidential Debates could even top that. I hope that other wrestling companies were taking notes during that because I don't believe that this debate could be outdone.

— Gavin Boone (@DrBoone_23) August 6, 2020
So you're telling me that @orangecassidy, the wrestler who made a career on not talking, is secretly one of the best promos in pro-wrestling today? #AEWDynamite pic.twitter.com/Vc8TNR9frD

— Reece Kelley Graham (@ReeceKelleyG) August 6, 2020
This was your MVP for both AEW and NXT tonight folks. Orange Cassidy got so over with the few words he said to Chris Jericho. He is a mega star in AEW, he's there most over and popular guy and he will be a champion whether you like it or not. He will also beat Jericho next week!! pic.twitter.com/eUIBrqLuwe

— Joseph Conlin (@conlin_joseph) August 6, 2020
SOURCE: AEW Twitter