WATCH: AEW Backstage Reacts to the Historic Battle of Dr. Britt Baker and Thunder Rosa on Dynamite
Published 03/19/2021, 1:11 PM EDT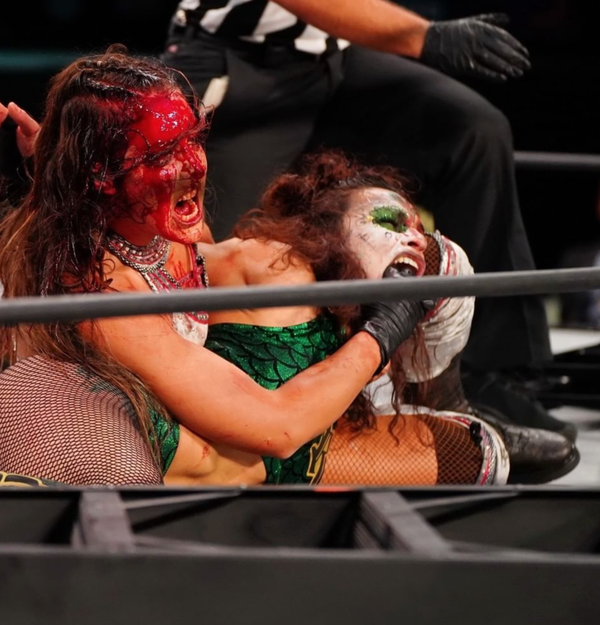 ---
---
Wrestling fans witnessed one of the best matches in AEW history on the latest episode of Dynamite. Thunder Rosa and Dr. Britt Baker DMD clashed to settle their bitter vendetta in an unsanctioned match that cruised on the lines of hardcore. 
ADVERTISEMENT
Article continues below this ad
The two put each other through hell in a kind of fight that would make legends such as Mick Foley and Sabu applaud. Blood, sweat, and tears were the aftermath of this brutal affair and capped off the perfect night for AEW.
ADVERTISEMENT
Article continues below this ad
After the show went off the air, the two wrestlers were applauded for their sacrifice and work to make the match what it was. AEW released a video showing the reaction the two got as soon as the show ended when they went backstage. 
The first thing Britt Baker can be heard saying is that she hoped John Moxley was proud. As a hardcore specialist himself, we bet the former AEW Champion was part of those applauding. 
AEW has proved that its Women's Division has a lot of grit after severe fan criticism belittled it in front of NXT's. Britt Baker and Thunder Rosa really showed fans a different side of themselves and set standards high for the following fights. 
Baker was really sent to the pain train with the amount she endured that night. Apart from that finisher in which she got sent headfirst into a table by Rosa's Piledriver, she even took a Powerbomb on thumbtacks which can be an extremely painful experience. 
Thunder Rosa vs Britt Baker was a promise of the future of AEW
Thunder Rosa herself went through a lot, and the pain showed on her face at the end of the fight. You can see the brutalities that occurred in this match below. 
ADVERTISEMENT
Article continues below this ad
The match received praise from not only wrestling fans but a lot of legends as well. Hardcore specialist Mick Foley was open in expressing his admiration for the two female stars that managed to deliver high above expectations. 
AEW also managed to beat NXT in the viewership for the week, outclassing their weekly rivals by nearly 200,000 viewers. AEW has been able to do so for consecutive weeks and aims to touch the one million mark again. 
ADVERTISEMENT
Article continues below this ad
Fans have started realizing the potential of its product, and Britt Baker vs Thunder Rosa is only a predecessor for the kind of content we can expect from the show.